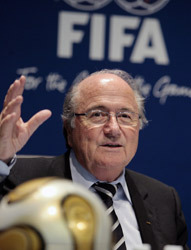 It's the Copa Del Rey final tonight and we've got the best betting odds on every market here…
Sepp Blatter has addressed FIFA voters, urging them to reject "revolution" and re-elect him president on June 1.
Blatter sent out a letter to the 208 national associations in which he argued that he can provide "stability, continuity and reliability" in a world of political and economic turmoil.
Blatter also promised to spread $1 billion among FIFA members for development projects over the next four years, and tackle the threats of "corruption, match-fixing and doping."
The 75-year-old Swiss, who has led FIFA since 1998, is being challenged by former ally Mohamed bin Hammam of Qatar.
"I have all the motivation, experience, ideas and energy necessary to complete my mission," Blatter wrote.
Blatter also promised a strong role for its ethics committee. The panel suspended two members of FIFA's 24-man executive committee from the 2018 and 2022 World Cup hosting votes last December
"I will ensure discipline, respect and fair play on and off the field," Blatter said.
Bin Hammam has pledged wider distribution of World Cup profits, which helped create FIFA's $1.28 billion reserve fund. He said he would double annual grants, giving all 208 members a basic $500,000, and double maximum payments toward Goal program projects to $1 million.
He also promised to share FIFA's power and jobs with its six confederations, by offering 17 extra seats on the executive body and creating legal and development teams at continental headquarters.
Blatter's letter began with descriptions of a world affected by "natural and nuclear catastrophes," financial turmoil and "political instability and revolution in many regions."
"In these challenging times, FIFA needs first stability, continuity and reliability," said Blatter, who was secretary general for 17 years before becoming president.
Shifting power to the six confederations, as bin Hammam proposes, would put "the football pyramid out of balance," Blatter said.
"We do not need revolution within FIFA, but the continuous evolution and improvement of our game and our organization," he added.
Blatter reminded voters that FIFA has organized 49 tournaments, including three World Cups, under his leadership and vastly increased revenues and spending, thanks to "the professionalism of FIFA's administration."
Blatter closed by urging voters "let's go for it – together."
"Football is my life, FIFA is my life," he said.
It's the Copa Del Rey final tonight and we've got the best betting odds on every market here…