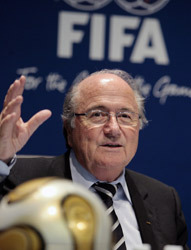 Man City travel to Chelsea in the Premiership game of the weekend – see the best odds on every market here…
Sepp Blatter, hoping to win a fourth term as FIFA president, has hinted that it could be his final spell in charge of football's world governing body.
"Possibly yes," the 75-year-old said when asked if the upcoming election would be his final bid.
"There is a moment when you really have to step down and when you are not intelligent enough to tell yourself when shall be the end, then perhaps our Lord will say 'stop it now'."
Blatter, conducting a tour of Asia, spoke amid speculation that Asian football president Mohamad bin Hammam will stand against him in this year's elections.
"I just passed on 10th of March 75 years. But I think I am full of energy and I have not yet finished my work to develop football and organise competition," Blatter said.
"I am willing to go on for the next four years. This is my wish and we will see what the congress will say."
"I feel still full of energy and I've not yet finished my work in FIFA.
"I'm now in my 13th year of presidency in FIFA, and the 36th year to work in FIFA, so I'm available to the congress."
The FIFA presidential election is due to take place in Zurich on June 1 and Blatter say he is unconcerned by the prospect of having to stand against Bin Hamman.
"If there is competition there is competition," he said.
"I have support from different Asian associations, but I must have the support from whole family of FIFA."
Bin Hammam is scheduled to hold a news conference at the Asian Football Confederation headquarters in Malaysia at 0500 BST on Friday.
Man City travel to Chelsea in the Premiership game of the weekend – see the best odds on every market here…