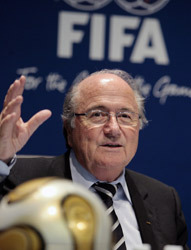 Premiership podcast: with just 8 games to go, our tipsters predict who will win and who will be relegated…
Sepp Blatter says he will step down as FIFA president in 2015, if he is re-elected for a fourth term in June.
The 75-year-old, who has led world football's governing body since 1998, is being challenged by Asian confederation president Mohamed Bin Hammam.
"You know I aspire to another four years," he told a UEFA Congress on Tuesday. "[But] these will be the last years for which I stand as candidate."
Bin Hammam is also attending the Congress to lobby European federation presidents for their vote on June 1 in Zurich.
"We are in extra time," said Blatter, referring to the time remaining before the election. "Let's wait and see what the outcome will be."
While Bin Hammam has promised greater transparency if he wins, Blatter told the UEFA delegates that football's main challenges in the coming years will be to preserve the identity of clubs and to fight against match-fixing and doping.
"Football is corrupted by all little devils which exist in the world," the 75-year-old Blatter said. "Don't forget that football is a game and that when one is playing, he always tries to cheat a little bit. Together we have the task of bringing together the adventure we have started. We want to ensure a better future for our youth."
UEFA members make up more than one quarter of the 208 FIFA voters that Blatter and bin Hammam are attempting to woo before the election.
The winner requires a two-thirds majority of votes cast in the first ballot, or a majority in the second. FIFA has set an April 1 deadline for other candidates to be nominated by a single member federation.
The new president will be elected at a FIFA Congress which starts on 31 May.
Premiership podcast: with just 8 games to go, our tipsters predict who will win and who will be relegated…
Take advantage of the sales by saving up to 36% on a subscription to World Soccer