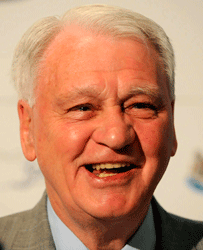 West Ham went down 1-0 to Tottenham in the Asia Trophy semi-finals so can the Hammers get their pre-season campaign back on track against Beijing Guoan?
Former England manager Sir Bobby Robson has died at the age of 76.
Robson was one of the most respected and well-liked figures in the football world and his managerial career included spells at Ipswich, Newcastle United, PSV Eindhoven, Sporting Lisbon, Porto and Barcelona.
A statement issued on behalf of his family said: "It is with great sadness that it has been announced today that Sir Bobby Robson has lost his long and courageous battle with cancer.
"He died very peacefully this morning (Friday) at his home in County Durham with his wife and family beside him.
"Sir Bobby's funeral will be private and for family members only.
"A thanksgiving service in celebration of Sir Bobby's life will be held at a later date for his many friends and colleagues.
"Lady Robson and the family would very much appreciate it if their privacy could be respected at this difficult time."
Robson had been battling cancer for the past 15 years and set up the Sir Bobby Robson Foundation to help with the earlier detection and treatment of the disease.
Robson's final public appearance came at St James' Park on Sunday when tens of thousands of fans turned out to support a charity match to raise funds for his foundation.
As a player, Robson was a key member of the Fulham and West Brom team during the 1950s and 1960s and also won 20 caps for England.
Robson enjoyed great success during his time as manager of Ipswich, guiding the club to the 1978 FA Cup and Uefa Cup glory in 1981 and twice securing runners-up spot in the league.
He took England to the brink of the World Cup final during Italia 90 only to see their hopes ended in a dramatic penalty shoot-out defeat by West Germany in the semi-finals.
Following his departure from the England post after Italia 90, he guided PSV to the Eredivisie title in the 1991-92 and 1992-93 seasons. Further silverware followed in Portugal as Porto clinched the league title, Portuguese Cup and Super Cup during his time in charge. He retained the title the following season.
In 1996, Robson succeeded Johan Cruyff as manager of Barcelona. On his arrival at the Nou Camp, Robson persuaded the Barcelona board to pay £20million to his old club PSV Eindhoven for a young Brazilian striker named Ronaldo.
During the 1996-97 campaign, Barcelona lifted the Copa Del Rey and won the European Cup Winners' Cup after beating Paris St Germain 1-0 in the final. He was also voted as European manager of the year.
His five-year spell in the dugout at Newcastle saw the most successful recent spell in the club's history as he guided the club to three top-five Premier League finishes and saw them play in the Champions League.
Passion and knowledge unsurpassed
Manchester United manager Sir Alex Ferguson revealed his admiration for his fellow football knight.
"I was never too big or proud to ask him for advice which he gave freely and unconditionally. And I'm sure I am speaking for a lot of people when I say that," said the Manchester United manager.
"In my 23 years working in England there is not a person I would put an inch above Bobby Robson. I mourn the passing of a great friend; a wonderful individual; a tremendous football man and somebody with passion and knowledge of the game that was unsurpassed.
"His character was hewn out of the coal face; developed by the Durham County mining background that he came from. His parents instilled in him the discipline and standards which forged the character of a genuinely colossal human being. He added his own qualities to that which then he passed on to his sons.
"The strength and courage he showed over the past couple of years when battling against his fifth bout of cancer was indescribable. Always a smile; always a friendly word with never a mention of his own problems. The world, not just the football world, will miss him. Let's hope it won't be long before another like him turns up because we could never get enough of them."
Jose Mourinho who worked as a translator for Robson at Sporting Lisbon before going with him to FC Porto and Barcelona, paid tribute to his former boss.
"I didn't speak with him [Robson] for the last two months because I was in difficulty.
"I was in difficulty because I didn't want to think that he was about to finish. It was not the image I wanted to take with me.
"It wasn't the voice I wanted to hear. I will always remember the Bobby Robson who had passion for life and football and who always had enthusiasm.
"Bobby Robson is one of those people who never die for all that they have given to people like myself, who had the fortune to walk by his side. My thoughts are with all of his dearest."
Great man
Fabio Capello, one of Robson's successors as England manager, said, "Sir Bobby was a wonderful man, a real gentleman. I remember very well the times I managed my teams against him. The first time being when Bobby was manager of Barcelona and I was in my first season with Real Madrid. Later, when he was Newcastle manager and I was with Roma we faced each other – as opponents, but always friends.
"Of course, I recall Bobby as a manager with Ipswich, but more so with England. To manage the national team for so long was a remarkable achievement, and we all remember how close he came to leading England to the World Cup Final in Italy. He went on to enjoy success with PSV Eindhoven, Porto, Sporting Lisbon and Barcelona before returning to 'home' to Newcastle.
"Earlier this year I spent some time with Bobby when he opened the new cancer treatment centre, for which he worked so hard to raise funds. He was a fantastic man, and loved by so many people. His spirit and courage was incredible. To fight cancer so many times really showed the strength of the man.
"All the time we spoke over a cup of coffee with his close family, his passion for football shone through. He loved the game and was extremely proud of his country and the North East region. I also recall the tribute dinner the LMA hosted for Bobby when he wasn't planning to say more than a few words. In the end he stayed on the stage for a very long time, telling story after story, much to everyone's amusement.
"It's extremely sad that Sir Bobby has lost his final fight against cancer, but he will never be forgotten. He really was a great man."
West Ham went down 1-0 to Tottenham in the Asia Trophy semi-finals so can the Hammers get their pre-season campaign back on track against Beijing Guoan?
For more fascinating features, subscribe and save 30% and use the below link?