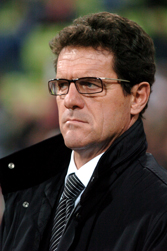 Real Madrid coach Fabio Capello was in a cautious mood, despite seeing his side move a step closer to the Spanish League title following Saturday's 2-2 draw with Real Zaragoza.
Although Real are now just one win away from winning La Liga, Capllo reminded supporters that the club had not yet won the title despite leading the table with just one match to go.
"You don't have a title until you win it. We must not let down our guard," he told sports daily AS.
Saturday's point combined with Barca's draw with Espanyol, means Real Madrid only have to beat Real Mallorca on June 17 to win La Liga for a record 30th time.
"We fought until the last minute," said Capello.
Tickets for the match against Mallorca at Real's Santiago Bernabeu stadium are sold out, the club said.
"The Santiago Bernabeu stadium will be packed for the final League match against Mallorca," it said in a statement on its Internet site.
Meanwhile, Capello, who earier in the season had been tipped to leave the club at the end of the current campaign, said he intends to stay on.
"That is something that the president decides, not me. I have a contract and I have always said I want to carry it out," he said.
Capello said he would like to see former England captain David Beckham, who is moving to MLS side LA Galaxy at the end of this month, stay on at the club.
"Regarding Beckham we were all mistaken. If the club told me that Beckham was staying, I would be happy," he said.