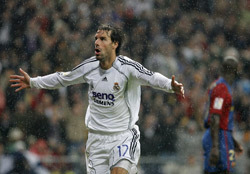 Betting £10 on football? Why not let us make it £20. Click here now!
Real Madrid manager Fabio Capello believes that Sunday's 2-0 victory over arch-rivals Barceona, demonstrates that the club has bounced back from their indifferent early season form.
"This is a total change of image. I spoke to the team for a long time after last week's defeat at Getafe," said Capello.
"I'm sure the turning point came after that discussion. These are three important points, bringing us closer to Barcelona and are a major psychological boost for the players."
"We knew that we had to take this match seriously. We were playing the European champions not a third division side.
"The first 20 minutes we played very well, very dangerous, but they could have still come back and equalised. However, in the second half we were much better than them."
Goals from club captain Raul Gonzalez and Ruud Van Nistelrooy separated the sides and earned Real a deserved win.
The loss means that Barcelona remain top with 16 points from seven games but only on goal difference from Valencia. Real climbed up to fourth place with just two points covering the top five clubs in the La Liga.
"This game we concentrated hard. It's a long season ahead but to beat the Spanish champions and the European champions in this fashion will be a great boost to our confidence," said Real's Brazilian left back Roberto Carlos.
For Barcelona coach Frank Rijkaard, the defeat was a disappointment but he refused to draw too many conclusions from the result.
"I'm disappointed but not worried. They are three points closer now to Barcelona and psychologically that is important," he said.
"But from the first day I said that Real were going to be competitive. It's always possible to lose games like this because this is a league with many teams that are close together, like Valencia and Sevilla as well.
"We've lost a game but not the league. We've lost at a difficult ground and have to accept it but it doesn't mean we will lose sight of our final objective. We have to learn from this, be self-critical and regain our confidence with hard work."
Betting £10 on football? Why not let us make it £20. Click here now!