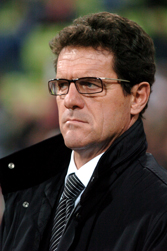 Real Madrid president Ramon Calderon has confirmed that Fabio Capello will have to wait to find out whether he will remain in charge of the club.
Capello's future is in doubt despite his success in leading Real to their 30th league title on the final day of the Primera Liga season.
"Now it is not the moment for speaking of Fabio Capello, there will be time later and we are going to enjoy this [basketball] triumph a little," Calderon told Marca amid celebrations for Real's basketball outfit.
"Until after a couple of weeks there will be no news on this subject."
A statement on Real's official website has further confirmed that the club's board will now meet at a later date.
"Due to the festivities that have been organised in celebration of the league title in basketball, the Board of Directors' meeting originally scheduled for today has been postponed," read the statement.
"The day and time of the next Board meeting will be announced in due course."
Getafe boss Schuster is the favourite to replace Capello should the Italian leave, but his appointment will not be straightforward.
Getafe president Angel Torres has dismissed any notions that the German will move to the Bernabeu, stating to Spanish television on Sunday: "Schuster will be the coach of Getafe next season."
In a separate interview with the Spanish media on Monday, Torres added: "I continue to believe there could yet be a surprise with Schuster and that he will stay with us.
"No one from Real Madrid has spoken to me about the subject."