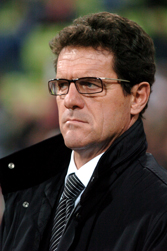 Juventus coach Fabio Capello was critical of his side for throwing away a two-goal lead against rivals Inter at the San Siro on Sunday.
Late strikes from Christian Vieri and Brazilian Adriano maintained Inter's unbeaten record after leaders Juve had lead through Marcelo Zalayeta and a Zlatan Ibrahimovic penalty.
Juventus were in total contol at 2-0 but Capello was unimpressed.
"We were looking in the mirror too much instead of paying attention," said the Juve coach.
"If you don't pay attention against players like Vieri, Adriano, (Alvaro) Recoba and (Obafemi) Martins then you can't count on anything," he added.
"Their first goal was fundamental, because at that point they seemed completely out of the match. We relaxed — that's something you absolutely can't afford to do at this level.
"When you've had a match in the palm of your hand it's hard to let it slip away, but the San Siro is a tough place to play at. I can only compliment Inter on the way they came back at us," he added.
Inter have now drawn 11 of their 13 Serie A matches this season, meaning they are 15 points behind Juventus but coach Roberto Mancini believes his team can make up the ground.
"We won't give up. We still have the belief even though we are far behind at the moment. This was our best draw because we were playing Juventus and came back from two goals down but we should have won at least five or six of the games we have drawn," he said.
"The way we fought back though showed that we have character," he added. "I am convinced that at the end of this season we will win something important," said the Inter coach, whose team have impressed in the Champions League this term.
"That tactical move was made in desperation and doing that you also risk losing 3-0 or 4-0 but in the end we had them in trouble and in the last few minutes I was thinking we could even win it," he said.