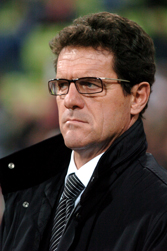 Fabio Capello has vowed to fight to remain as coach at Real Madrid, if, as reported, the club attempt to replace him with Bernd Schuster.
Reports claim that club president, Ramon Calderon, wants Schuster to take over and is currently negotiating with Getafe for his release.
"Calderon knows that I have two years left on my contract and that I am going to respect them," Capello told QN.
"But if he has to pay me off, then I want to make it clear that it will have to be for every last cent.
"The president is free to decide what he wants. Has he chosen Schuster? That is something for him to answer."
Calderon has indicated that he would like a different coach in charge next season, although the former Juventus coach refused to be drawn on the issue.
"That is a hypothetical thing," Capello explained.
"I am now going on a long holiday to China and Tibet and then to Pantelleria. I will have a lot of time to reflect and to decide my future."
Despite the speculation surrounding his future, Capello says he has already started planning for next season.
"Then we shall begin to think about the new Madrid," he said. "In the first place we will need a replacement for Beckham, a player with whom we made a mistake that I have had no difficulty admitting."
Capello said that the players' self-belief was responsible for last season's Liga triumphleague title.
"That fact the players and I have always believed in it was the best thing, even when we were being torn to shreds by the media," he continued.
"We went through some terrible months, but myself and my staff never gave in.
"The criticism was unbearable at times. Now they are all jumping on the bandwagon and that has made me laugh."
Capello also confirmed that the player he would most like to work with is Brazilian playmaker Kaka.
"The three best players I have worked with are Paolo Maldini, Franco Baresi and Marco Van Basten, but the best player now is Kaka," he said. "He is an exemplary player in every way and can score goals from nothing.
"With good reason because where else will you find another player with that Brazilian magic and the practicality of Kaka?"