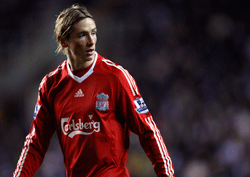 Can Alan Pardew lead Southampton back to the Championship? Tom Powell previews the betting.
Jamie Carragher says he expects Fernando Torres to stay at Liverpool and believes the Spaniard will play an important role in a "rebuilding process" at the club.
Torres has been the subject of transfer speculation this summer and Manchester City manager Roberto Mancini admitted on Monday that he was interested in bringing the player to Eastlands.
Liverpool manager Roy Hodgson has conceded it may be difficult to retain Torres as the striker has "beef" with the club – reportedly stemming from broken promises regarding investment in the squad.
But Carragher believes the club's star striker will shun offers to move.
""There's been a lot of negativity and it's been like that for a while, but I'm sure that Steven Gerrard and Fernando Torres will still be involved at the club next season," Carragher told the Daily Mirror.
"If they are, then the aim for Liverpool must be to get back into the Champions League. We have to build. Next season, rather than thinking too much about the title, we have to concentrate on getting back into the top four. It's a rebuilding process again and hopefully we can get ourselves right up there."
Former Liverpool defender Mark Lawrenson told the Liverpool Daily Post he fears the striker will be departing Anfield.
"Despite the club's attempts to play down reports that Fernando Torres is on his way out of Anfield, I fear that a parting of the ways now looks inevitable," Lawrenson said. "If you're a player and you weren't going to move then surely you'd come out and issue a statement to tell all the fans that you're staying.
"First we had Roy Hodgson telling us that he'd had a 'pleasant' meeting with Torres but his 'beef is with the club, not me,' then the manager says that the feedback he's been getting from managing director Christian Purslow over the matter has been 'positive.'
"However, we are yet to hear anything from the player himself on the matter and I take that as bad news as much as anything."
Can Alan Pardew lead Southampton back to the Championship? Tom Powell previews the betting.
Make sure you don't miss any of the last news and articles from World Soccer. Subscribe to World Soccer today and take advantage of our all 50th anniversary offer, saving up to 50%!