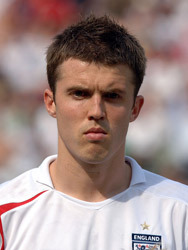 Tottenham have confirmed they have accepted a fee of up to £18.6m from Manchester United for Michael Carrick.
The 25-year-old England midfielder will have a medical on Monday and is expected to complete his move later today.
In a statement issued to the Stock Exchange on Monday Spurs confirmed the fee for Carrick was "for a total consideration of up to £18.6m".
United manager Sir Alex Ferguson said: "Michael will have his medical on Monday and then, hopefully, we will be able to conclude that deal."
Ferguson, who is hopeful of signing more players before the new season, added: "We have targeted several players but, in my experience, these things take time."
Carrick rejected a new deal offer from Spurs following United's interest.
"This is a move that Michael wants to make," Spurs boss Martin Jol told the club's official website.
"We have given him every reason to stay but he has asked to be allowed to leave."
Carrick joined from West Ham for £2.75m two years ago.
West Ham are reported to be in for a windfall when the transfer goes through, with a sell-on clause included as part of the deal that took him to White Hart Lane.
The midfielder has won seven England caps, and was a member of England's World Cup squad although his only start was in the 1-0 win over Ecuador in the first game of the knockout stages.
Ferguson has denied reports that he is also interested in signing Carrick's Tottenham team-mate Jermain Defoe.
"There has not been any interest from us," said Ferguson.
"As far as the Tottenham situation is concerned, we made a move for Michael Carrick – but that is all we did.
"He is the only Tottenham player we are interested in at the moment and I think it will stay that way."