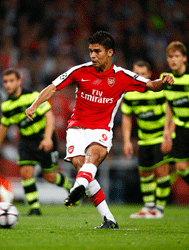 It's the Champions League group-stage draw today. See all the 2009/10 prices here.
Celtic midfielder Massimo Donati believes that Arsenal striker Eduardo should be banned for diving in the Champions League on Wednesday night.
Eduardo was awarded a penalty in the Gunners' 3-1 second-leg win at Emirates Stadium after falling theatrically following a challenge with Celtic keeper Artrur Boruc.
Donati believes Eduardo should be treated the same way as Lithuania striker Saulius Mikoliunas, who was given a two-match ban after earning a penalty against Scotland at Hampden Park in September 2007.
"If it is clear on TV then Uefa must act against Eduardo and ban him," said Donati, who has been linked with a move to Bari.
"I think he should get a two-match ban because it wasn't a penalty. I told him that and everyone in the Celtic team told him that."
Arsenal boss Arsene Wenger acknowledged Celtic goalkeeper Artur Boruc did not bring down Eduardo in the penalty incident but claimed his forward was taking evasive action.
"I believe that Eduardo, with what happened to him, I am a bit cautious," Wenger said. "You don't know because he might have jumped out of the way as well. I don't think he would have complained if the penalty was not given but did he want to get out of the way of the keeper?
"I do not want a penalty which is not a penalty but I do not go as far to say Eduardo dived. From the outside, I must say it looked a penalty but, having seen it again, it doesn't look to be a penalty. I must say, though, we always looked in control."
Celtic defender Glenn Loovens was in no doubt Eduardo had dived.
"I don't think he even speaks English so there was no point talking to him," Loovens added.
"It is very disappointing but that is football. It's sad it happened to us.
"I don't think it is really fair. But it helped his team take the lead.
"There is a referee and a linesman to see those kind of things."
It's the Champions League group-stage draw today. See all the 2009/10 prices here.
For more fascinating features, subscribe and save 30% and use the below link?