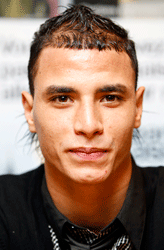 Leicester City host Cardiff in the 1st leg of their semi-final play-off on Sunday – see all the betting here.
Bordeaux striker Marouane Chamakh has confirmed he will join Arsenal at the end of the season and admitted he snubbed offers from Tottenham Hotspur and Liverpool.
Chamakh, 26, is out of contract this summer and Arsenal boss Arsene Wenger hinted last month that there was a "good chance" he would arrive.
"I am delighted to become part of the English football atmosphere," Chamakh told L'Equipe. "It is something amazing.
"Arsenal were not alone [in making an offer]. There were approaches from Liverpool, Tottenham and crazy offers from Russia that were much bigger than those from England, but I was focused on playing in the Premier League.
"Bordeaux offered me a contract extension that was almost impossible to refuse, financially – the figures were very close to those offered by Arsenal.
"I have always loved Arsenal's football. I know I will have to adapt, but I have experience of playing the short passing game from working with Yoann Gourcuff."
"I am counting down the days – 11 short days. As time passes, it feels strange. I am experiencing many emotions."
Chamakh claims he would have agreed to prolong his deal at Bordeaux had they not taken so long offering him a contracy extension.
"They should have offered me something a year earlier," he said. "I think the club and I did not understand each other. It was clear to me that if they did not extend my contract in 2009, I would have the right to leave, but then they blocked my move. I didn't take that well.
"It's true that I almost cracked [and signed a new deal] but, in February, I made my decision. It would be illogical to sign a new contract with a release clause after refusing Arsenal last summer."
Chamakh, who has been with Bordeaux since the age of ten, feels he is now ready to perform in the Premier League.
"At Bordeaux, I was the club's child," he said. "In London, I won't be a kid anymore. I have grown, I have things to prove and I am motivated to achieve them."
Leicester City host Cardiff in the 1st leg of their semi-final play-off on Sunday – see all the betting here.
Make sure you don't miss any of the last news and articles from World Soccer. Subscribe to World Soccer today and take advantage of our all 50th anniversary offer, saving up to 50%!