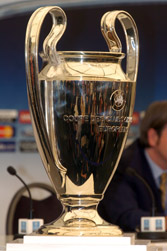 The UEFA Cup is now at their group stage, but who's your money on to go all the way? Click here for the full BestPrice betting and group draw.
European champions Milan will face English Premier League leaders Arsenal in the first knockout round of the Champions League.
It will be the first meeting of the clubs since Milan beat Arsenal 2-0 on aggregate in the European Super Cup final in 1994-95.
Arsenal's managing director Keith Edelman admitted that he would have preferred an easier draw.
"It's going to be a great match, very exciting," he said.
"We've only played them once in a competitive match in 1994 (the European Super Cup), we drew at Highbury and lost at Milan so we can hopefully turn that round.
"We would have preferred an easier one at this stage but everyone will be looking forward to this tremendously."
Milan director Umberto Gandini believes his team have been handed the toughest draw.
"We have seen better draws in the past. We have drawn the most difficult team," he told the club website.
"The percentages of getting an English team were very high."
Another Anglo-Italian confrontation sees Liverpool, last season's beaten finalists, drawn to face Italian champions Inter.
Liverpool chief executive Rick Parry admitted that the encounter against the current Serie A leaders would be a test for Rafa Benitez's side.
"It's a big one but was it going to be whoever we had drawn," said Parry.
"It's a long time since we played them, they are a very good team. It's going to be tough but there are no easy ones at this stage.
"Every team at this stage is a good team, if you look at who we could have drawn it was never going to be easy so we shall take who we get.
"We've stopped a few hearts the way we have qualified but in the last three games we are clearly in form and scoring goals."
Inter's chief executive Ernesto Paolillo believes his side had been given the toughest possible draw.
"We feel Liverpool are the strongest team, what better team to have as an opponent?" he said.
"I think Liverpool will make it difficult for us and I hope it will be difficult for them as well.
"The history is in favour of Liverpool but our team has been in good form so I hope we will be in the right condition to win this match.
Nine-times European champions Real Madrid were drawn to play Roma, while Barcelona, face Celtic for their third time in the last five seasons.
In other matches, Schalke will face Porto, Olympiakos will play Chelsea, Fenerbahce face Sevilla and Manchester United meet French League leaders Lyon.
The first legs will be played on Feb. 19-20, with the return legs on March 4-5.
Draw:
Celtic v Barcelona
Lyon v Manchester United
Schalke v Porto
Liverpool v Inter Milan
Roma v Real Madrid
Arsenal v AC Milan
Olympiakos v Chelsea
Fenerbahce v Sevilla
The UEFA Cup is now at their group stage, but who's your money on to go all the way? Click here for the full BestPrice betting and group draw.