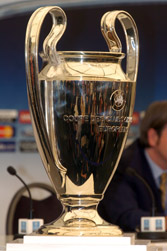 Champions League Final – With a whole host of countries represented, what nationality do you think the first scorer will be?
Ten days since Manchester United secured the Premier League title, they resume their rivalry with runners-up Chelsea on the biggest stage of all.
Moscow's Luzhniki Stadium is the venue for a unique Champions League occasion that sees two English clubs competing against each other in the final for the first time.
United manager Sir Alex Ferguson, the most successful manager in the history of English football, admits that for all their domestic supremacy, the club's European record has been something of a disappointment.
"We have an illustrious history, but there is a weakness in how many European trophies we have won. I hope we can go some way to making that better," Ferguson said.
"Real Madrid have won it nine times, Milan have won it seven times and then there are clubs like Bayern Munich, Liverpool and Ajax who have all won it four or five times. For a club like ours, we should definitely have won it more than we have.
"We are always proud of achievements. But we will always be disappointed that we haven't won it more, and I'm sure the way I feel about that is the same way that everyone at the club feels. If we can't win it again, it affects our history."
Ferguson led his side to Champions League glory in 1999, and a third European crown beckons 40 years after Sir Matt Busby's team lifted the trophy. It is also 50 years since the Munich air disaster and United's manager said he was "proud to be following in the footsteps" of those who had died that day. "We will not let them down," he promised.
No concerns
Ferguson appeared relaxed when discussing tonight's encounter, brushing aside concerns about the state of the Luzhniki Stadium surface, which has only recently been changed from an artificial pitch to natural grass.
"I have no concerns about it," he said. "Uefa have done their best – and the fact they've re-laid the astroturf that was there before is a big relief for me. There's no fear from me about the pitch at this time."
Inevitably, after a season in which he has been named Footballer of the Year in England, much will be expected of Cristiano Ronaldo, who, with seven goals to his name, is the leading scorer in this year's competition. The Portuguese winger has been the subect of intense transfer speculation in recent days, with reports claiming he may quit United to join Real Madrid – a claim strongly denied by the club – but Ferguson was adamant the player was going nowhere. Responding to a Spanish journalist's question on the subject, he snapped: "You get some idiots in this place don't you? If you want to have a bet on it, I'll put a big bet on with you."
Attacking instincts
Meanwhile, Ronaldo's strike partner Wayne Rooney, believes United best chance of success tonight will come if they stay true to their attacking instincts.
"If we go in there negatively and defensively, Chelsea have a good enough team to punish us," Rooney said.
"We just have to relax and play the free-flowing football we have played most of the season.
Ferguson admitted that while Chelsea contained several potential match-winners, he was confident that his entire side would respond to the challenge.
"We do have to pay attention to the strengths of Chelsea, of [Didier] Drogba, [Michael] Ballack and [Frank] Lampard," he acknowledged. "Part of our preparation has been about that. But we also have to trust our players.
"We can't rest on two young lads [Cristiano Ronaldo and Wayne Rooney] being our saviours. I'll be depending on all 11 players playing at the top level. It's a massive challenge for everybody. But I think I've got the players to do the job and I trust that."
Unknown territory
For United's opponents, tonight's final represents unknown territory. Finishing runners-up to United on the domestic stage has provided a huge incentive to land the trophy their Moscow-born owner Roman Abramovich covets most.
Abramovich's ambition for his team is matched by that of his players, with skipper John Terry acknowledging that tonight's game represents the pinnacle of his career.
"Finally we're here on the big stage," Terry said. "Hopefully we've got a fully-fit team. It is massive.
"When you see the trophy and the atmosphere that surrounds the game it's awesome. This is the biggest game I've been involved in in my career. Winning it would be the icing on the cake."
Defining moment
Team-mate Frank Lampard echoed Terry's thoughts, describing the final as a defining moment for the club.
"This game is potentially a defining moment for a lot of the players in our team," said Lampard. "Some of the players have already won Champions Leagues, but a lot of us haven't and want to be part of a winning team.
"We've achieved a lot at Chelsea in the last five years and been very close to this final many times. Every year we missed out made us even hungrier.
"The losing finalist is pretty much forgotten in history, so we're looking to put 'Champions League winner' next to our name. The defining moment for me will be if I can be amongst my team-mates lifting the European Cup."
Chelsea manager, Avram Grant, who has led the club to the final in his first season in charge, paid tribute to his United counterpart.
"I really respect Alex Ferguson as a person and a manager but, you know, this is only the second time for him in the final of the Champions League," said Grant. "The first one he won, but I'm in my first in my first year as a manager at this club.
Hunger
Grant claims he has identified a hunger for success among his players.
"It's more important that the players are hungry and my players are very, very hungry to win."
One player in particular who will be expected to take the fight to United is Didier Drogba.
The Ivorian striker, who like Ronaldo, has been linked with a move away from England, revealed that he might consider staying with Chelsea.
Chelsea's preparations suffered a setback on the eve of the final when Ashley Cole hurt his right ankle in training after a tackle by Claude Makelele. Although the left-back continued after strapping was applied, Wayne Bridge will be on standby should the problem prove serious.
Each team is otherwise at full strength. Chelsea won their most recent meeting in April but United had the last laugh by taking the Premiership title. In Russia, it will be intriguing to see if the Reds can prevail again. If not, the drinks will be on Mr Abramovich, according to Grant.
"You can imagine what this means to Roman Abramovich. He came from here, from Moscow, and he's always wanted to be in the final," he said. "That was his dream. I'm sure this is very special. I'm not a drinker but, if we win, I will drink more than one glass of vodka with him.""
Champions League Final – With a whole host of countries represented, what nationality do you think the first scorer will be?