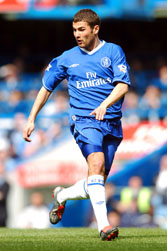 Chelsea have strongly criticised the Football Association for handing Adrian Mutu a seven-month ban for a failed drug test.
The Premeir League club gave described the sentence as "far too lenient" and accused the governing body of being "weak over the issue of drugs"
"Chelsea are disappointed," the club's chief executive Peter Kenyon. "We believe it is far too lenient.
"It sends out the wrong message about drugs in football and is indicative of a lack of direction within the FA.
"In this case we believe the FA has shown itself to be weak over the issue of drugs."
The FA backed its disciplinary panel and stressing its anti-drug commitment.
"We conduct more tests than any other sport in the UK and we have been acclaimed for this," it said.
"The FA believe that it is important to balance rehabilitation and education with suspension, when appropriate, in cases of players who accept wrongdoing after failing a drugs test."