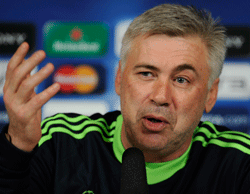 Chelsea are now a best price 8/1 for the Premiership after their 2-0 win over Man City on Sunday…
Manager Carlo Ancelotti says Chelsea can retain the Premier League title, but he believes his side will have to win their remaining 9 games to do so.
Late goals by David Luiz and Ramires inflicted a 2-0 win over Manchester City to take Chelsea into third spot.
And despite trailing leaders Manchester United by nine points, Ancelotti said: "We have to try to win every game.
"There'll be an international break and when the players come back, I'd like to see the same spirit and attitude."
"It was a very good result and performance," Ancelotti told BBC Sport after the win over City. "We are showing good spirit and good football and all the players are fit.
"It was important to put pressure up front and not concede. We could have done better in the final third in the first half but after the break we did better and we put the pressure on.
"Luiz and Ramires – fantastic performances and fantastic goals. Ramires, in particular. He's improving very well.
"Luiz's goal was a surprise. Defensively, he worked with fantastic tempo for a long time and his performance was really good."
The Italian boss also defended his £50m signing striker Fernando Torres, who looked short of confidence as the Spaniard continued his goalscoring drought before being substituted with 20 minutes remaining.
"He doesn't have to lose his confidence," commented Ancelotti. "We have to be patient and so does he. The goal will arrive."
Chelsea are now a best price 8/1 for the Premiership after their 2-0 win over Man City on Sunday…
Take advantage of the sales by saving up to 36% on a subscription to World Soccer