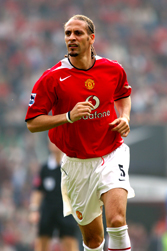 Chelsea have dismissed reports claiming they are interested in signing Manchester United defender Rio Ferdinand.
The denial comes amid allegations of a second meeting between the 26-year-old and Blues chief executive Peter Kenyon.
"We have made it absolutely clear to United – on more than one occasion now – that we have no interest in Rio Ferdinand," said a Chelsea statement.
"Regardless of where this encounter took place, there is absolutely no significance in Peter Kenyon seeing Rio.
"As already stated, their meeting was purely by chance in a very public place."
Despite the fresh claims, Manchester United manager Sir Alex Ferguson has insisted that Ferdinand is poised to sign a new deal to stay at Old Trafford.
"We've been having good discussions. It is the same with any discussions, they are not easy, but I don't think we are far away," said Ferguson.
"It's important to keep all our players here.
"Manchester United have to have a stability that goes on for years. To be near the top it's that stability that gives you success.
"What we've done over the last two years is to restructure a new team."
The England defender had previously been pictured meeting Kenyon in a restaurant near Stamford Bridge.
And it has now emerged the pair, along with agent Pini Zahavi, moved on to a second restuarant on the same night only hours after United had lost to Norwich.
"I went to meet my agent and he (Kenyon) was there. It's the truth," Ferdinand said when pictures of their first meeting were published.
"We said a brief hello and did not discuss football. I have no intention of leaving United."
Ferguson launched a scathing attack on Chelsea when told of that encounter.
"It may be somebody else's view the meeting was unfortunate – but it's not my view.
"I don't know if it's contempt or whether he (Kenyon) is thumbing his nose at us or what. I just don't know.
"For a chief executive of a Premier League club – with the recent history they (Chelsea) have had – to sit in a restaurant like that is amazing.
"I've not been over-encouraged by Peter Kenyon's words that he does not want to sign Rio."
"We're discussing it here and I think the Premier League are aware of it. My concern is for our supporters. I just want to let them know the club are not happy. It's an issue we are discussing.
"I must say that I don't blame Rio. I believe what he's telling me. If he was enticed to that meeting, I do not know, but I believe he'll sign a contract and he'll stay here."