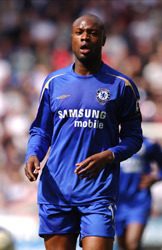 For the latest odds on this seasons Champions League click here.
Chelsea have claimed William Gallas threatened to score an own goal if the club prevented him from leaving the club.
The 29-year-old French defender allegedly refused to play again for Chelsea and subsequently joined Arsenal on transfer deadline day, with England defender Ashley Cole travelling to Stamford Bridge in part-exchange.
But Gallas, on international duty with France, denied the allegation, saying: "I am surprised and shocked by these claims.
"I never said I would score own goals if I had to play for Chelsea again.
"I was firm about my wanting to leave, that is true, and I will explain in due time why I wanted to.
"But I never went that far. But if people want to hide behind false accusations in order to give a reason for why I left so they can calm down the club's supporters then they can.
"All this is very, very petty on behalf of Chelsea. But at the same time, coming on behalf of its new leaders, that does not surprise me. Even if Chelsea has much money, its new leaders lack class."
Chelsea's statement says Gallas initially refused to play against Liverpool in last season's FA Cup semi-final and that, he had threatened to score an own goal, get sent off or make deliberate mistakes in Chelsea's Premiership opener against Manchester City.
Chelsea Statement
The full club statement read: "Chelsea believes it is important for our supporters to be made aware of the full facts regarding William Gallas and the lack of respect he showed to the fans, the manager and the club.
"Despite leaving he continues to attack José Mourinho and this cannot be left unchallenged.
"Chelsea made William Gallas a very substantial and attractive new contract offer to stay towards the end of last season. This was rejected.
"The issue was purely one of money, despite his public comments that he wanted a new challenge, to play abroad and so forth. These were just a smokescreen to cover up the fact he was hawking himself to the highest bidder.
"Having failed to secure his demands, his position became increasingly intransigent and unacceptable.
"He initially refused to play against Liverpool in the FA Cup semi-final last season in an effort to force an increased contract offer.
"As is now well documented he refused to join up with the team in Los Angeles during pre-season, despite agreeing the dates for his return as the other World Cup players did, with the club.
"When Jose Mourinho generously offered him a way back into the 'family' after the American tour, this was thrown back in the Chelsea manager's face.
"The manager told him that, even if he did not agree a new contract but returned to the "family" and abided by the rules, he would still select the best players available and would not punish him playing wise.
"However despite meetings to try and resolve the problems Gallas made it clear to Jose Mourinho he would never play for Chelsea again.
"Before the first game of the season against Manchester City, when only four defenders were available and John Terry was doubtful with an injury, he refused to play.
"He went on to threaten that if he was forced to play, or if he was disciplined and financially punished for his breach of the rules, that he could score an own goal or get himself sent off, or make deliberate mistakes.
"Clearly this was a totally unacceptable situation for the manager, the team and the club. So a collectively agreed solution in Chelsea's interests had to be found, hence his departure.
"Chelsea has a wage structure in place that is valued not only on the contribution of the player to the manager and the team, but also on a player's respect for the club and contribution to the promotion and image of the club off the field. Every player is expected to play their part in this.
"William Gallas rarely recognised these responsibilities.
"He also failed to recognise the role Jose Mourinho and Chelsea played in helping him become a double Premiership champion for a player whose only league title prior to that had been in the French Second Division."
Meanwhile, France coach Raymond Domenech has labelled Chelsea "scandalous" following their claim that Gallas had threatened to score an own goal.
"It's a shame that Chelsea can say, think, or even imagine that Gallas would betray his team mates during a game," Domenech told reporters.
"It's scandalous. William has proved over the years that he is loyal to his team mates. But I repeat, it's scandalous."
For the latest odds on this seasons Champions League click here.