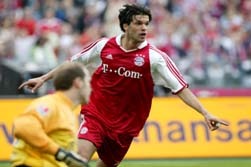 Chelsea are expected to unveil Michael Ballack as their new signing at a press conference at 1230 BST on Monday.
Midfielder Ballack, 29, is out of contract at Bayern Munich and has joined Chelsea on a free transfer.
Chelsea manager Jose Mourinho said: "I'm happy and very proud. I'm happy with the conversation I had with Michael and that is the reason he decided to come here."
Ballack, who led Bayern to three Bundesliga championships and three German cups in his time at Munich, was jeered by fans in his final appearance for the club against Borussia Dortmund.
"Those things got whipped up a bit in recent weeks after some remarks by the club's management," Ballack told Premiere television.
"The fans are sensitive to what is said but I always tried hard to do my job and that should be honoured.
"I want a new challenge now. I've got to accept some jeering. It shows I was an important player but it does hurt."
The jeers began at a ceremony before the match when Ballack, Bixente Lizarazu and Jens Jeremies, who are also leaving the club, were presented with flowers.
The abuse continued until Bayern commercial manager Uli Honess went out in front of the crowd to appeal to the fans to stop jeering.
"I wasn't trying to mess anyone about," added Ballack.
"I was not able to make a decision sooner and could not force a decision just because Bayern managers demanded one.
"There are a lot of others at Bayern who don't know whether they have a future at Bayern Munich or not.
"I've had a great time here and felt good with a great team that won a lot of titles."