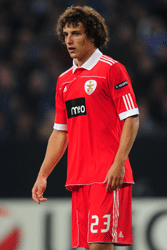 Chelsea are now a best price 7/1 for the Premiership after their 4-0 thrashing of Bolton last night
Chelsea are still hoping to find a "solution" in their bid to sign Benfica defender David Luiz, according to the club's manager Carlo Ancelotti.
Chelsea are thought to have had a £17m bid for the Brazilian international, 23, rejected at the end of December.
Speaking after Chelsea beat Bolton 4-0 on Monday, Ancelotti said nothing had been agreed between the two clubs.
"He is the only signing we are trying to make but if it's not possible, nothing changes," stated the Italian.
"He's a very good young player but we have not agreed anything."
A centre-half who can also play at right or left-back, Luiz is valued by Portuguese side Benfica at £25.5m.
Were he to join Chelsea, he would link up with fellow Brazilians, defender Alex and midfielder Ramires.
After witnessing Chelsea's comfortable win over Bolton, Ancelotti said his title holders had "turned the corner".
"We are playing good football with a good attitude and a good mentality," added Chelsea's Italian manager. "The performance was very good and now I think we are coming back to fight for everything.
"It is not easy to close the gap but we have to try. We are playing well and are in good condition, so we will try to do everything to close the gap."
The Blues manager hailed striker Drogba after he opened the scoring with his ninth league goal of the season.
"He has trained very well and has had a fantastic attitude in the last week," said Ancelotti. "He deserved this performance and scored a fantastic goal."
Chelsea are now a best price 7/1 for the Premiership after their 4-0 thrashing of Bolton last night
Take advantage of the January sales by saving up to 36% on a subscription to World Soccer