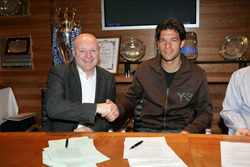 Chelsea have unveiled Michael Ballack as the Germany captain became their first signing of the summer.
The three-time German Footballer of the Year has joined on a free transfer following the expiry of his contract with Bayern Munich.
Ballack, who helped the German club to three league titles during his four years at the club, has signed a three-year deal with the Premier League champions.
The club have also been linked with Milan striker Andrii Shevchenko as coach Jose Mourinho looks to bolster their attack.
"For me he is one of the best players in the world," Mourinho said of Ballack before the deal was completed. "He's very intelligent, tactically very strong and he scores a lot of goals."
Ballack, who rejected the biggest deal ever offered by Bayern, was jeered by fans in his final appearance for the club against Borussia Dortmund.
"I'm very happy to be here and to sign the contract," he said on Sky Sports News.
"The last two days were good. I met very friendly people and London is a nice city.
"We had a great dinner in an Italian restaurant and a boy asked me for my autograph and was very respectful.
"So there's been good impressions.
"I asked some players about England and English football – Jurgen Klinsmann, Robert Huth, Jens Lehmann.
"They told me good things about this country.
"I am happy to be here."
The German playmaker began his career with Chemnitz and has had spells at Kaiserslautern and Bayer Leverkusen before moving a Bayern Munich.
After previously being courted by Manchester United and Real Madrid, the 29-year-old opted for a move to London.