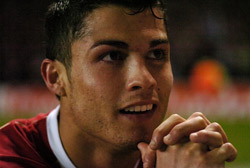 England should have few problems getting a result against Estonia this Saturday and moving one step closer to qualifying for Euro 2008 – 15:00 BBC1
Manchester United's Cristiano Ronaldo feels that Chelsea will struggle this season following the departure of Jose Mourinho.
"Chelsea without Mourinho, that's a completely different team," he told Austrian newspaper Heute.
"You can never write Chelsea off, but I have a feeling that this will not be a good season for them."
Ronaldo has also revealed that he feels United are the team best-equipped to win this season's the UEFA Champions League.
"Manchester United is the favourite. AC Milan, Barcelona, Real Madrid and Internazionale also have good chances," he added.
"We want to reach the final at the very least. I am extremely ambitious and want to win every title."
Ronaldo is currently is focused on helping his national side reach next summer's Euro 2008 finals as they head into back-to-back away clashes against Azerbaijan and Kazakhstan.
Portugal are currently third in Group A, two points behind second placed Finland and four points off Poland, but with a game in hand.
"I especially want to win the World Cup. For Portugal to get fourth place in Germany last year was not a failure," he added.

England should have few problems getting a result against Estonia this Saturday and moving one step closer to qualifying for Euro 2008 – 15:00 BBC1