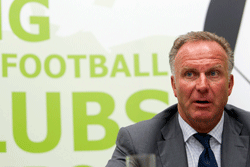 Celtic have been eased to 11/10 to win the SPL after their controversial 1-1 draw at Hamilton last night
Europe's top clubs are preparing for talks with FIFA over cutting the number of international matches played.
European Club Association chairman Karl-Heinz Rummenigge said FIFA has to accept that clubs pay the wages of players who are left "completely empty" because FIFA keeps increasing the number of international matches.
"We have to stop this direction, always doing more and more," Rummenigge said. "I really hope that FIFA is willing to accept that. … We speak about our players and they are not paid by FIFA or by anybody else. That is a legal fact and has to be accepted."
Rummenigge admitted he foresaw a likely clash with FIFA President Sepp Blatter over club v country tensions.
Blatter said last week he wants smaller European leagues with fewer matches so players arrive fitter and fresher at the World Cup.
"I have the opposite idea," said Rummenigge, who is also chairman of German champion Bayern Munich. "I am strictly against reducing club matches. I will meet Mr. Blatter in a couple of months to speak about this because I believe we have to find a realistic way."
The clubs in the 197-member group will meet next month at their biannual ECA assembly in Geneva to discuss ways of influencing FIFA's international schedule, which currently runs through until 2014.
The calendar is a four-year timetable of national team matches and FIFA rules demand that clubs worldwide release their best players.
In 2011, it protects 10 dates for official matches, such as qualifiers for continental championships, plus three more for friendly matches in February, June and August. Clubs must also give up their players for the Asian Cup currently being played in Qatar, the United States-hosted CONCACAF Gold Cup in June and the Copa America tournament in Argentina in July.
Rummenigge singled out Germany defender Philipp Lahm, who he said played 83 official matches in the 2010 World Cup season.
"That is absolutely too much. He was completely empty, tired," he said.
Rummenigge said clubs compromised when accepting fewer lucrative Champions League matches, from a maximum of 17 to 13. That was achieved by getting rid of the second group stage format.
"The outcome was that we have more national team match days today than ever," he said.
The calendar debate is destined to intensify if FIFA and Qatar decide the 2022 World Cup should be played in winter.
The suggested switch would commit players for up to nine weeks in the middle of the traditional European season.

Celtic have been eased to 11/10 to win the SPL after their controversial 1-1 draw at Hamilton last night
Take advantage of the January sales by saving up to 36% on a subscription to World Soccer