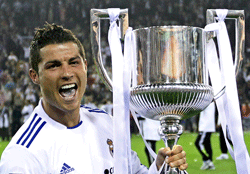 Can Chelsea still win the Premiership? They're into 2nd place and are now a best price 7/1 to retain their title…
Real Madrid coach Jose Mourinho said the Copa del Rey triumph over Barcelona demonstrates his side can compete with their arc-rivals and can emerge victorious in the clubs' forthcoming Champions League semi-final tie.
Mourinho collected his first trophy as Real Madrid coach following a 1-0 extra-time win. Cristiano Ronaldo scored the only goal of the game, thundering home a powerful header after good work by Angel di Maria.
"I am thrilled to win the Copa del Rey – it is something special," Mourinho said after the game.
"It's a fantastic triumph against a great team like Barcelona – and we deserved it."
Mourinho's men were humbled by Barca in his first Clasico, a 5-0 thrashing at the Nou Camp in late December.
But a 1-1 draw at home to the Catalans in the Primera Division gave his players belief and Mourinho is confident this win shows his team can match the Spanish champions.
"We can take them on over two games; we have just done that," he said.
"There is no reason we can't beat them in the Champions League because we have just drawn once against them and then beaten them."
And the former Inter coach says the Copa del Rey is just the beginning for this Madrid side.
"I came here to do a job and change the mentality of the club," he said.
"We have started to do that and it's satisfying – but it's just the start."
Meanwhile, Zinedine Zidane, the last man to score a winning goal for Madrid in a cup final – during the 2002 Champions League final – echoed those sentiments.
"This is an important trophy because it's the first trophy in a long time and the club needed it," the Frenchman, now a special advisor at Madrid, told reporters after the game.
"Now it will give us confidence for the games against Barcelona."
Ronaldo, the matchwinner said he knew the first goal would prove vital.
"We knew that whoever scored first would win it – and so it proved," he said.
"Mourinho has given us a winning spirit and this is a really important trophy for us – it was an objective we had for this season and we have achieved it."
Barcelona coach Pep Guardiola was philosophical in defeat after losing his first final as coach of the Catalan club.
"It's always better to win than to lose," Guardiola said after the game.
"But life is like that – you can't always win."
Despite failing to beat Madrid in their two meetings in the last few days Guardiola is adamant his side can bounce back for the Champions League encounters.
"We will pick ourselves up – of course we will," he said.
"We are more sad than if we had won, but that's part of the game.
"These players have been playing together for a long time and we'll bounce back."
Can Chelsea still win the Premiership? They're into 2nd place and are now a best price 7/1 to retain their title…