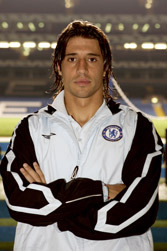 Chelsea striker Hernan Crespo has dismissed reports claiming he has fallen out with manager Jose Mourinho.
Crespo was omitted from the Blues' squad for the trip to Old Trafford, prompting speculation he is ready to leave Chelsea after starting just five matches this season.
But the Argentinian striker said: "There is no way we have fallen out. No way. We didn't have an argument, definitely not. That did not happen.
"I want to stay at Chelsea. You must not believe I will leave in January.
"Mourinho is one of the great managers in the world. He is a good, good person and I am very happy to work with him and our relationship is good.
"I am very happy there. The group of players is great and the manager is great."
Crespo admitted he will have to bide his time at Chelsea this season.
"People think that if you sit on the bench you will not have a lot of patience. But I do have patience.
"If I have five, 10 or 90 minutes, I will always do my best. There is no problem with that.
"Am I frustrated? No. I know that I am at Chelsea.
"If I want to play for a small team then I will always get 90 minutes but when you play at a great team like Chelsea you need to be patient. The season is still early."
Subscribe to World Soccer – The essential football magazine