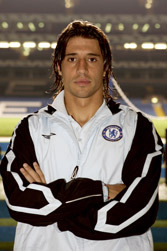 Hernan Crespo Crespo is at the centre of a club versus country row with the Argetinian striker refusing to return to Stamford Bridge for treatment on a calf injury.
The striker picked up the injury during Argentina's 3-2 defeat to England on Saturday, but Argentina coach Jose Pekerman claims that the root of the injury lies with Chelsea's failure to give him more playing time.
"His injury came through not playing regularly," accused Pekerman. "If he was fitter and playing regularly, it would not have happened."
"It's still early in the season and we've spoken about it, but I only hope now he plays more games for Chelsea for the rest of the season."
Pekerman has decided to take Crespo to Qatar for Argentina's friendly on Wednesday, and intends to play him despite the injury. The decision to field an unfit Crespo has infuriated Chelsea manager Jose Mourinho.
Mourinho said: "National teams prepare in such a disparate way that it's hard to find criterion beyond criticism."
"Once more there is confusion, once more I have my heart in my mouth.
"It was with their national teams that I lost Claude Makelele, Asier Del Horno, Damien Duff and Arjen Robben.
"That's without looking further back and at last season when Paulo Ferreira also had to undergo surgery.
"England seem intelligent to me. They think about the burden constituted by the Premiership and opted for just one game, in Europe, but against a South American opponent, in this case Argentina, who could offer them a different playing style.
"For their part, Argentina were looking for a European opponent with a different playing style to those it meets in South America.
"But then they are going to Qatar, returning their players to their clubs one day before the weekend's competitions.
"The French play two games and, incredible as it seems, they go to the Caribbean, obliging players such as Makelele, Thierry Henry or Patrick Vieira to make a journey of many hours and to a complete change of climate."
Subscribe to World Soccer – The essential football magazine