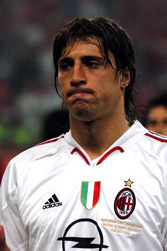 Chelsea have confirmed that Argentinian striker Hernan Crespo will return to Stamford Bridge for the new Premiership season.
Crespo had been expected to extend his stay with Milan, but negotiations between the two clubs broke down and after Milan signed Christian Vieri, the return to London of Crespo seemed inevitable.
"We're delighted Hernan is coming back," Chelsea chief executive Peter Kenyon told the club's website on Thursday.
"He had a great season on loan at Milan and showed what a good player he his. He is very happy to be coming back to Stamford Bridge and I know he will be welcomed by everyone."
Crespo told the Daily Star: "Peter Kenyon was very important in my return. He told me that I have the quality to be the best striker in the Premiership.
"I will hope for a good welcome from Chelsea fans. They know I only left to play more football.
"Chelsea now are a completely different club to the one of a year ago. They have gone forward in every respect and for me that is positive. It's an important year ahead of the World Cup, I want to be in the Argentina squad and I have to have a good season to achieve that."