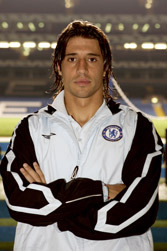 Chelsea striker Hernan Crespo will remain on loan at Internazionale for a second season.
Crespo, who helped Inter win Serie A last season, had repeatedly stressed he would like to stay with the club rather than return to Chelsea, who had the option of terminating the Argentinian international's loan period after one season.
"I'm very happy," the 31-year-old striker, who scored 14 goals in Serie A last season, told the Inter website.
"Staying at Inter was what I wanted.
"I would like to thank Chelsea first of all for their help, and Inter for confirming their faith in me."
The 31-year-oldmoved to Chelsea in 2003, but struggled to adapt to English football and returned to Italy on loan in 2004-05 season, with Milan.
After a successful season Crespo was recalled by Chelsea's Jose Mourinho and made more of an impact in his second spell at Stamford Bridge, but he always yearned for a return to Italy and he went back out on loan to Inter in Aug. 2006.