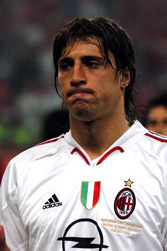 Hernan Crespo has confirmed that he is to meet representatives from Chelsea in order to sort out his future.
The Argentinian, who spent last season on loan with Milan, is looking to secure a permanent move to the Serie A club.
The two clubs have been in negotiations for several months but there have been suggestions in recent days that Chelsea may insist on Crespo returning to Stamford Bridge.
"It's a bit tiring to talk about the future when I don't know what the future holds," Crespo told the club's website.
"I am a Milan player until June 30 and I hope to be after that as well.
"Is my move part of Kaladze's one? I don't know. Everyone will have their opinion on this, but I am meeting Chelsea to understand and find out what will happen.
"I will speak personally with Chelsea; I am a little worried as this is the last card I can play to stay at Milan.
"I am confident but not relaxed, I hope I can find the person who understands."
Milan are udnerstood to be chasing Parma striker Alberto Gilardino from Parma, a transfer which could undermine the Argentinian's position at the club, but the Crespo feels there is room for both strikers at the club.
"As for Gilardino, I thank him with all my heart for saving Parma, he's a great player, there's room for everyone at Milan," added Crespo.