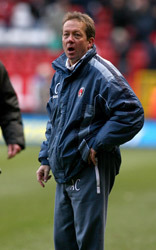 Charlton manager Alan Curbishley admitted to holding preliminary talks with Football Association chief executive Brian Barwick over the vacant England manager's job.
Curbishley was pictured with Barwick in the Sunday Mirror newspaper.
And after Sunday's 2-1 win over Middlesbrough he said: "I am not used to waking up to that sort of headline.
"They were speaking to people before me and people after me but someone was going to get caught and it was me."
And Curbishley insisted that he had been given permission to meet Barwick.
"It looked a bit cloak and dagger but the chairman Richard Murray gave me permission to talk to them," he added.
"It was very relaxed, very preliminary. I don't think it was really an interview at all."
Curbishley was obviously unhappy that his meeting with Barwick had made it on to the front of national newspapers. "It was alarming for my wife," he said. "Maybe it's a taster."
He added: "I am not the first person – and am definitely not going to be the last. I was just the one who got caught.
"For me, it was an opportunity to see the face behind the name and for them to see me but it was all very informal.
"I am on no list, I do not think at the moment, and I think they will be setting about speaking to some more people. They might not get caught, they might but how else do you do it?"
"The Football Association and I will now be considering our respective positions and any further statements will be made as and when appropriate whether they relate to further discussions or my withdrawal from the process.
"I am totally committed to Charlton. We have some very important matches which can help us achieve our objective of a top-10 League finish and a place in the FA Cup semi-finals. I will not allow anything to deflect me from achieving those objectives."
Subscribe to World Soccer – The essential football magazine.