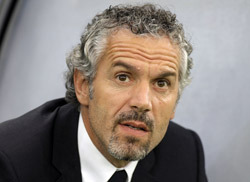 Euro 2008 Top Goalscorer. Click here for the latest odds!
Roberto Donadoni has been fired as coach of Italy following their quarter-final exit defeat to Spain at Euro 2008.
Donadoni has been in charge for just under two years, succeeding Marcello Lippi as national team boss in the wake of Italy's 2006 World Cup triumph.
The Italian Football Federation (FIGC) confirmed their decision on their official website after president Giancarlo Abete met with the former Milan player.
"The Federation considers the contractual relationship with Roberto Donadoni to have run out at its natural expiry date," the FIGC said in a statement.
"President Abete on Wednesday met with national coach Roberto Donadoni in the FIGC headquarters.
"In the course of the meeting, as already announced, they reviewed the work carried out in the last two years and how the European Championships had panned out.
"While confirming to Donadoni sincere personal admiration and appreciation for the reliability and skilled professional work which marked his time at the helm of the national side, president Abete also communicated to the coach the FIGC's decision not to renew the contract, which had run to its natural expiry date."
Donadoni only signed a new contract with Italy before the start of the European Championships, but the deal was conditional on securing a semi-final berth.
Donadoni admitted he was disappointed to lose his job claiming a missed spot-kick in the penalty shoot-out defeat to Spain cost him his job.
"I'm sorry that a penalty kick has decided this situation," Donadoni told ANSA news agency.
"Over these last two years, my Italy also did something positive, and one last game can't erase that."
Lippi had been tipped to return to the job even before Donadoni's departure, and he could be back in charge for the World Cup 2010 qualification campaign.