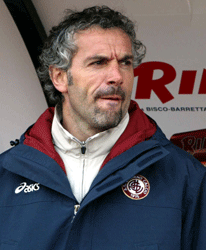 New Italy coach Roberto Donadoni is looking forward to taking over the world champions, and the former Livorno coach has denied feeling extra pressure in his new role.
The 42-year-old former Milan and Italy midfielder was appointed last week following Marcello Lippi's decision to stand down just days after leading the Azzurri to World Cup glory.
"The responsibility on me will be even greater with the World Cup behind us, but it's better to start with a trophy in the cabinet than nothing at all," Donadoni said.
"Pressure is part of the job. I knew that when I decided to become a coach.
"It's an honour to take over a winning team and I'll do my best to take the team forward to new successes."
Donadoni has taken over at a difficult time for Italian football, with the game reeling from the Serie A match-fixing scandal that has resulted in the demotion of several clubs.
Juventus, Fiorentina and Lazio have been relegated to Serie B with points deducted after they were found guilty of conspiring with match officials to rig matches during the 2004-05 season.
All four have announced they will appeal against the verdicts.
"I just hope the verdicts (from the appeals process) arrive quickly so that we can all get on with looking forward," Donadoni said.
Asked whether he was worried by the prospect of Italy's top players leaving the country in the fallout, Donadoni replied: "If players decide to go abroad it could complicate things a little, but they will still be playing for big teams.
"They will still be on show. There's no chance that any of them will disappear from view."
Donadoni's first match in charge will be a friendly against Croatia on Aug 16. He then has a European championship qualifier against Lithuania on Sept. 2, followed by an appetizing rematch with World Cup finalists France in Paris four days later.
Donadoni said he hoped the qualifier against France pass without controversy following the ill feeling between the sides in the aftermath of the World Cup final. In that match French captain Zinedine Zidane was sent off for head-butting Italy defender Marco Materazzi.
"Those first two matches are very important and very difficult and this will clearly complicate things a little, but we have to put outside factors behind us as soon as we go out on the pitch," Donadoni said.
"It's not an episode that has been edifying for anyone involved, but I think it has been blown out of proportion.
"Only they (Materazzi and Zidane) know what happened on the pitch. If Zidane reacted the way he did then clearly there must have been some provocation.
"But I used to get provoked too when I was a player. It (his reaction) was sad to see, especially from a player of his standing".