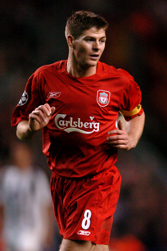 Steven Gerrard appears set to leave Liverpool after he called off talks about a new contract, leaving the way open for Chelsea to mount a £30m bid for his services.
Liverpool are refusing to comment on reports that Gerrard could leave the Champions League winners following allegations of a training-ground row.
Newspaper reports claimed the England midfielder, 25, had an angry exchange with boss Rafael Benitez.
A Liverpool spokesman said: "We will not be commenting on speculation."
Although Liverpool claim that they still want to keep their captain, the lack of progress in discussions with the chief executive Rick Parry has now prompted the midfielder to break off talks for good.
On Sunday Liverpool spokesman Ian Cotton said: "Our position is very clear. We want Gerrard to stay at the club."
But on Monday, reports claim Gerrard has received no improved pay offer from Liverpool and no more talks are planned.
Chelsea, who have been linked with the player for the last 12 months, are now expected to launch a £35m bid for Gerrard.
It all seems a far cry from 6 weeks agpo, when, in the wake of Liverpool's stunning Champions League win over Milan, Gerrard stated: "How can I think of leaving Liverpool after a night like this?"
But Gerrard is said to be disappointed that the issue of a new contract has not been resolved – and Liverpool, conscious that they could not afford to lose him for a cut-price deal in 12 months time, seem prepared to sanction his sale. Although his contract has two years to run, Liverpool will be aware that his market value would fall if he remained at Anfield without signing a new deal.
Last week Spanish reports claimed that Gerrard had revealed to Benitez his interest in a move to Real Madrid, who are said to be willing to more than double his wages to over £8m a year.
If Gerrard plays in the qualifying round tie against Total Network Solutions, it would cup-tie him and prevent him playing for another club in this year's competition.