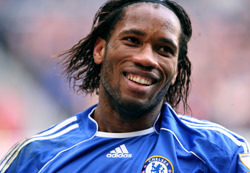 Will Chelsea wrap up the Premier League title by beating Wigan at Stamford Bridge? See all the betting here.
Didier Drogba says he would be pleased if Chelsea managed to sign Bayern Munich forward Franck Ribery.
The France playmaker is expected to be sold by Bayern this summer and Chelsea are one of a number of clubs showing an interest in Ribery.
"I know Franck from my time at Guingamp," Drogba said in The Sun. "If he comes to Chelsea, I will be happy.
"He is hungry. I like hungry players."
Drogba is desperate to beat Wayne Rooney to the league's top scorer award, with both players currently level pegging on 26 goals.
"To finish above Rooney in the scorers' table would be the cherry on the cake," Drogba said.
"Three years ago, I finished above him and we didn't win the league. There was something missing.
"But if there is a penalty to take, I have already agreed with (Frank) Lampard that I will take it."
Drogba believes that the John Terry affair earlier in the season came close to ending Chelsea's title challenge.
"It was a key moment in our season because it corresponded with a period where we had lost points, a period where it was less good," he said. "But we stayed united, like we always do when there is a storm at the club.
"It is a period which cost us a lot of points. Here in England, it was enormous. It went from sport to being in the celebrity pages. The cameras were focused on all sorts of things rather than football and we lost our focus, unconsciously, which made us drop points."
Meanwhile, Drogba, 32, admits he misses Marseille, but believes it would be hard to return to his former club.
"I miss Marseille. That's true," Drogba told France Football. "I have many friends there among the managers, but also from the club physios to the baker on the corner. But I have already said, it would be hard to go back.
"Moreover, I would prefer to avoid this question because that could lead to misunderstandings, whether in France or in England.
"If I ever return to Marseille it will come about naturally."
Will Chelsea wrap up the Premier League title by beating Wigan at Stamford Bridge? See all the betting here.
Make sure you don't miss any of the last news and articles from World Soccer. Subscribe to World Soccer today and take advantage of our all 50th anniversary offer, saving up to 50%!