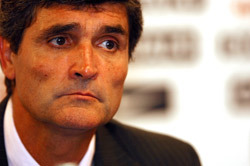 Juande Ramos and Co Adriaanse have denied having contact about the manager's job at Manchester City, according to their spokesmen.
The pair have been linked with the vacant managerial post at Eastlands as City search for a successor to Stuart Pearce.
Ramos' agent Alvaro Torres says he has had no contact with City and that his client was happy at Sevilla.
"I haven't had any contact with people from Manchester City," Torres told Radio Five Live.
"I saw the press two days ago. I saw the interest but they haven't called me.
"Juande Ramos is happy right now in Sevilla.
"Ramos won two Uefa Cups. He is fighting for the league.
"In the open market, it is impossible to know what might happen tomorrow.
"He likes English football, without doubt.
"Ramos is sure he will train in England one year, this year or in the future.
"He wants to manage there."
Dutch coach Adriaanse is also reported to be a candidate for the job at City, but his spokesman Willem Zeijlmans was unaware of any interest from City.
"We know nothing about this and we are not responsible for the list of Manchester City," said Zeijlmans.