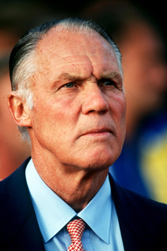 Legendary Dutch coach Rinus Michels, the man responsible for developing 'total football', has died aged 77.
Michels, who was named coach of the century by FIFA in 1999, led the Dutch at the 1974 World Cup – when they reached the final only to lose 2-1 to Germany.
However, he guided his side to the 1988 European Championship title with a 2-0 win over the Soviet Union in the final.
He played five internationals for the Netherlands and scored 121 goals in his career after 269 games for Ajax Amsterdam with whom he won two Dutch titles.
Michels later coached the side to four national titles between 1965-71 and a European Cup in 1971. He also led Barcelona to the Spanish title in 1974. After further stints at Ajax and Barcelona, he moved to the Los Angeles Aztecs, then on to Cologne before finishing his club coaching career with Bayer Leverkusen in Germany in 1989.
Michels had recently undergone heart surgery and Dutch soccer federation (KNVB) spokesman Frank Huizinga said: "He was one of the best coaches we had in history."