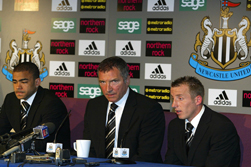 Newcastle have confirmed Lee Bowyer and Kieron Dyer will both stay at the club despite their brawl duringthe 3-0 defeat to Aston Villa on Saturday.
Bowyer, who is deemed to have initiated the clash, has been fined the maximum six weeks wages by the club.
Dyer escaped punishment and manager Graeme Souness said that the club would be appealing on his behalf against his red card.
Souness said: "They've spoken over the weekend and have had a laugh about it."
A Newcastle statement read: "Lee Bowyer has been handed an unprecedented fine, severely censured and additionally warned as to his future conduct.
"The decision to fine and censure Bowyer was taken after chairman Freddy Shepherd and Graeme Souness interviewed both players at the club's training ground on Monday.
"The fine, amounting to six weeks wages, is the highest fine handed out by the club."
Dyer and Bowyer already both face a three-match ban for violent conduct and the Football Association will study referee Barry Knight's report on Monday before deciding whether the pair should be charged with bringing the game into disrepute.
An FA spokesman revealed: "The referee's report will be studied during the course of Monday."
Shepherd admitted Saturday was his worst day as Newcastle chairman.
"I could hardly believe what my eyes were telling me. I am deeply embarrassed, hurt and angry about what happened. It was just unbelievable," said Shepherd.
"It was a black day for Newcastle United and I never thought I would see two of our own players fighting."