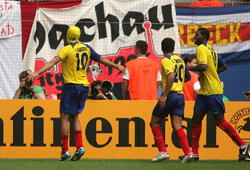 Group A
Ecuador 3-0 Costa Rica
Discuss this game on our new Forum
England 1/6 v Trinidad 28/1. Sweden 11/10 v Paraguay 3/1. Ecuador 21/20 v Costa Rica 10/3 Click here now for the latest odds.
Ecuador qualified for the knockout stages of the World Cup finals for the first time in their history courtesy of a comfortable 3-0 win over Costa Rica.
Goals from Tenorio, Delgado and Kaviedes were enough to secure an emphatic victory over a lacklustre Costa Rican outfit.
The South Americans, who surprised many people by beating Poland in their opening match, were looking for the victory that would take them into the last 16.
As if to prove that the opening day result was no fluke, Luis Fernando Suarez's wasted no time in taking the lead when the unmarked Carlos Tenorio headed home a Valencia cross from five yards out after just eight minutes.
The goal seemed to act as a catalyst to Ecuador and for the next few minutes they overran their opponents and with better finishing would have extended their lead.
At this stage, Costa Rica were struggling to retain any possession and when the ball was knocked up front, neither Wanchope or Sequeira were getting any joy out of the Ecuadorian defence.
Alexandre Guimaraes responded to the situation by introducing Saborio, an additional attacker, midway through the first half. At this stage, Ecuador seemed content to sit back and protect their lead, which allowed their opponents the opportunity to settle into the game after a nervy start.
Costa Rica's best chance of the half fell to Sequeira, but he headed wide from close range with just the keeper to beat. It was starting to look like one of those days for Costa Rica. They appeared bereft of attacking ideas and on the rare occasions they threatened, poor finishing let them down.
Meanwhile, at the other end, Delgado should have doubled Ecuador's lead but he failed to make proper contact with an inviting cross from Mendez.
Ecuador replaced the goalscorer Tenorio with Kaviedes at half-time. But, it was his strike partner Delgado who had the first chance of the half, but his weakly hit shot was comfortably saved by Porras.
Delgado made amends shortly afterwards when he collected a loose ball in the Costa Rican box and unleashed a powerful volley that beat Porras at the near post.
The game looked up for Costa Rica, but substitute Solis offered a glimmer of hope when he went on a wonderful surging run that took him past several defenders before firing straight at Mora.
Thereafter, the threat posed by Costa Rica was sporadic, and even though their World Cup campaign was on the line, their attacking efforts remained sporadic and largely impotent.
Saborio almost scored a consolation goal for Costa Rica in the closing minutes when his chipped shot eluded Mora but came back off the bar.
To rub salt in their wound, Ecuador went up the other end and scored the goal of the game. Delgado fed Mendez who crossed first time for Kaviedes to volley past the helpless Porras.
Ecuador's win took them to the top of Group A, but given the paucity of the opposition they have faced so far, it is difficult to assess their true quality. The result also means that hosts German are guaranteed a place in the last 16. The two sides meet next week with the victors topping the group, although if the game is drawn, Ecuador will go through as group winners.
For Costa Rica, the World Cup is over less than a week after it begun. With a fallible defence combined with an ineffectual attack, they were always going to struggle at the highest level, let alone against Germany and Ecuador.
Teams
Ecuador: Mora, De la Cruz, Reasco, Espinoza, Hurtado, Castillo, Valencia, Edwin Tenorio, Mendez, Carlos Tenorio, Delgado.
Subs used: Kaviedes 46, (for Tenorio), Drummond 68 (for Espinoza), Urrutia 74 (for Valencia)
Bookings: Castillo 44, De la Cruz 54, Mora 60
Costa Rica: Porras, Gonzalez, Umana, Wallace, Marin, Fonseca, Centeno, Solis, Sequeira, Wanchope, Gomez.
Subs used: Saborio 29 (for Fonseca), Hernandez 56 (for Gonzalez)
Bookings: Marin 10, Solis 28, Bernard (for Centeno)
Referee: Coffi Codjia (Benin).
Scorers:
Ecuador: Tenoria 8, Delgado 54, Mendez 93.
href="http://uk.sitestat.com/easyodds/easyodds/s?wc_wsodds1&ns_type=clickin" target="_blank"> England 1/6 v Trinidad 28/1. Sweden 11/10 v Paraguay 3/1. Ecuador 21/20 v Costa Rica 10/3 Click here now for the latest odds.