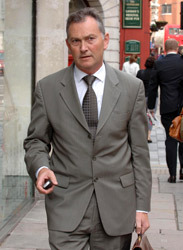 There's some crucial League One games taking place tonight – see all the best odds on every game here
Premier League chief executive Richard Scudamore says he is confident no English clubs will fall foul of UEFA's new financial regulations and be barred from continental competition.
UEFA's Financial Fair Play Initiative, designed to reduce debt and spending across Europe, will be gradually phased in but the governing body will have the power to bar clubs from the Champions League and Europa League if certain conditions are not met from 2014 onwards.
While UEFA has insisted that no exceptions will be made, Scudamore does not envisage any difficulties despite suggestions that big-spending Manchester City may struggle to comply with rules that force clubs not spend no more than they earn.
Scudamore told BBC Sport: "I don't see any circumstances where any of our clubs could get near to exclusion. UEFA is too sensible, and it's not in its interests to do so. It's more about taking the steam out of the system and acting as a speed bump rather than about barring clubs.
"In general we're supportive. It's very hard not to be. Break-even as a concept has got to be good in business. Manchester City are starting to plan and are disposing of some of their assets this transfer window. They're a very well-run club, they know what they have to do and I'm sure they'll do it.
"It is a 'soft' salary cap in effect. By far the largest expense is in this area, so by definition it will have an impact on wages and squad sizes and that's great. No one in football is proud of the kind of wage inflation we've experienced, but equally we mustn't do anything that dampens the international appeal of our league."
There's some crucial League One games taking place tonight – see all the best odds on every game here
Take advantage of the January sales by saving up to 36% on a subscription to World Soccer