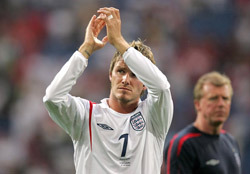 Compare football odds from over 25 bookmakers and claim £500+ in Free Bets. Click here for offer!
Sven-Goran Eriksson believes England's World Cup hopes were destroyed because several players were jealous of the status of captain David Beckham.
Eriksson's friend and leading football agent Pini Zahavi claims the former England coach has told him 'the whole story' behind England's disappointing campaign in Germany last summer.
Beckham stepped down as captain after the World Cup and has been left out of England squads since by new coach Steve McClaren.
Zahavi said: "There was a big problem with jealously at the World Cup – something no-one has ever talked about.
"A lot of people didn't like Beckham's position within the team. It was one of the biggest things that hurt England.
"A lot of players didn't like the `super player' Beckham. They didn't like his status in the team.
"If Sven told the whole story of what went on in Germany – and I know the whole story because I have talked to him a lot – people would understand what happened.
"One of the main problems was Sven had too much respect for several players. If you look at it professionally, Beckham shouldn't have played at certain times. But Sven put him in anyway.
"Now, at least, all the players are equal under McClaren."
England face Israel on Saturday in a crucial Euro 2008 qualifier, and former Israeli midfielder Eyal Berkovic believes Beckham should still be a member of McClaren's side.
"He's their leader – there is no doubt about it," he told BBC Sport.
"England have a lot of good players at the moment but they don't have a leader on the pitch."
"It was a big mistake to leave him out. Any England side will miss Beckham, he has been a big part of the team for the last 10 years," added Berkovic.
"I think they miss his free-kicks and corners – they are the best in the world and in modern football it is very important to have a player like that on the pitch.
"Every time he gets the ball something is likely to happen."
Compare football odds from over 25 bookmakers and claim £500+ in Free Bets. Click here for offer!