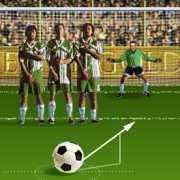 England coach Sven Goran Eriksson has attributed David Beckham's loss of form to the fact he is playing out of position for his club, Real Madrid.
Beckham is used in a central role by Madrid but Eriksson believes that the player's best position is on the right flank, where he made his name at Manchester United.
Since returning from a rib injured, Beckham has struggled and there have been suggestions that he be dropped from the national team.
However, Eriksson is confident that Beckham will emerge from his current slump.
"I don't want to discuss the tactics of Real Madrid, because that's not up to me," said Eriksson.
"But for me, he can do better if he plays on the right of either a midfield three or four.
"It will happen for him, though. I can't believe that he's finished as a football player, and he's not. I'm quite sure about that.
"At Real Madrid, the expectations are that they should win every game 5-0. But they're struggling and not doing that, so it's difficult for all the players. You have to look at that as well.
"Against Barcelona, the whole team played badly. In the last game against Bayer Leverkusen David played well in the first half before he was injured.
"I will go out to see him before next February, although I haven't decided when yet. I talk to him now and then."