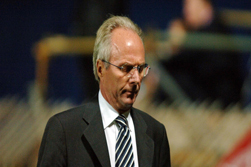 Sven-Goran Eriksson remain as England coach provided England qualify for next year'\s World Cup finals.
That is the message from the Football Association, despite England's humiliating 1-0 defeat by Northern Ireland.
"If we want to play at the World Cup, we all have the knives here," said Eriksson drawing a finger across his throat.
"But I'm sure we will respond in a very positive way.
"I could not even dream of not qualifying for the World Cup. We have to win the next two games. Will I quit if we don't? We're going to win them – and that's it."
Brian Barwick, the FA chief executive, has ruled out a knee jerk reaction to Wednesday's defeat and his statements have always been supportive of Eriksson.
"We are not naive at the FA," said Barwick two days before England's 4-1 defeat in Denmark.
"We understand the bigger picture. But I'm [planning] that Sven will work into the spring of 2006, through the World Cup and into the next tournament."
The England manager has told friends that he intends to see out his contract until it expires after the European Championship in 2008. Eriksson's position is strengthened by the enormity of his £4m annual salary. Any decision to sack him would result in the Swede receiving a huge compensation pay-out, a situation the the cash-strapped FA would be keen to avoid.
The comments of Charlton's Alan Curbishley yesterday suggest that some leading candidates from the Premiership are already eyeing Eriksson's position.
"Over the years I have been linked with a few things but nothing has ever materialised," said Curbishley.
"Timing is everything, and we will have to wait and see what happens in the future."