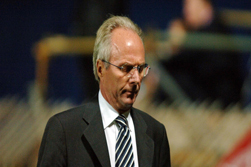 Sven-Goran Eriksson insists he will not resign as England coach after Wednesday's humiliating 1-0 qualifying defeat to Northern Ireland in Belfast.
"I'm not going to resign. I'm going to try to make it right. In October, win two games and we qualify," he said.
"This is my worst experience as England manager because it's a qualification game. We shouldn't lose here. We should not even draw," added the Swede.
"We should win games like this. We didn't, so of course I'm very sorry, disappointed as the players are."
Eriksson, who was verbally abused by travelling England supporters, said it was "understandable" that some travelling fans were calling for him to resign.
"If we lose to Northern Ireland, I can't argue with that. But sacking is up to the FA," he said.
"The attitude was better today than it was second half against Denmark, that's for sure," he said.
"But the result was worse than against Denmark. I'm not talking about the figures, 4-1 or 1-0.
"It's much worse to lose a qualification game 1-0 than it is to lose a friendly 4-1. Much, much worse.
"But we still have it in our hands and it is up to us in October to get six points."
England captain David Beckham backed the Swede although he said it was worrying to hear England fans calling for Eriksson to be sacked.
"We have confidence in the manager. We believe that he is the right man for the job," he said.
"Everyone have to come together, the backroom staff, the players, everybody. Eriksson's record in qualifiers is quite amazing.
"If we had won tonight that would have been seven wins on the trot."
Beckham admitted he understood the fans' disappointment.
"These people have paid a lot of money to come and watch us play tonight, I've said that every time we get fans travelling," he said.
"We love the way the fans are, but they are frustrated. That's hard for the manager to take, it's hard for the players to take. But we accept it."
"That is what this team's all about. We've always done that. Even when we have been criticised, we stick together," he said.
"Of course, tonight hurts more than any night. But we stick together.
"That's all we can do to put it right – if we win the next two games we top the group. That's all we have to do."