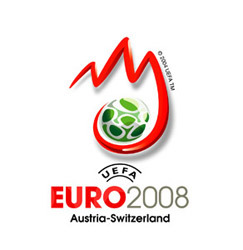 After both winning their opening games Croatia & Germany will be able to land a final eight spot with a win today. Click here for the latest match odds!
Group B
Croatia v Germany – Klagenfurt – Kick-off: 17:00
Croatia coach Slaven Bilic was in confident mood ahead of his team's Group B encounter with Germany in Klagenfurt.
Following their winning start against co-hosts Austria four days ago, and Germany's 2-0 victory over Poland, tonight's group should ensure qualification for the knockout stages for the victors.
"We approach this game with just as much self-confidence as Germany," he said. "Like them, we also won our first match and we are relieved after the negative pressure we had beforehand. The winning start has give us great belief in ourselves and the way we are playing."
Bilic has plenty of respect for Germany, stating that Croatia can consider themselves potential winners of Euro 2008 title if they claim a win.
"I definitely would consider us a strong contender if we beat Germany," said the 39-year-old. "I believe any team that beats Germany can hope to beat anybody."
Luka Modric is ready to play after training alone on Monday as a precautionary measure due to a slight pain in his achilles tendon.
Bilic may opt to freshen up his attack – which was disappointing in Croatia's 1-0 win over the hosts Austria on Sunday, with Werder Bremen forward Ivan Klasnic eager to get his chance.
Klasnic, who was born in Germany, is the first player to be picked for a European Championship following a kidney transplant.
"I am here and I am 100% ready to play," Klasnic said.
"I never thought I would be at the Euros. My first concerns were my health and returning to playing football. Playing at the Euros is just a bonus."
German Self-confidence
Germany coach Joachim Low admitted his players are feeling confident, but expects a tough game against the Croats.
"It is true that over the past few months we have become more and more self-confident," said the 48-year-old.
"We've proved that we've been able to implement what we've practised in matches. We are confident going into the game, but Croatia are a good team with attack-minded players and we will face a tough challenge. We want to dictate our pace on the game – that will be our aim."
Asked if he would settle for second place in the group, Low said he would rather settle for a win tonight.
"It is logical tomorrow that we want to win, simply because both ourselves and Croatia have three points each," he said.
"But so far, I haven't spent much time thinking about whether we will be first or second. We want the win because I think it will put us in the quarter-finals."
With no injury concerns, the only potential change Low may make to the side that beat Poland could be to give defender Arne Friedrich his chance in place of Marcell Jansen. Friedrich, a regular at the World Cup two years ago, could return to right-back with Philipp Lahm moving to the left.
"Not many changes will happen but one or two players may be new," Low said.
German captain Michael Ballack believes there is little point in changing a winning team.
"I don't see that any changes are needed but of course it is up to the coach – and it depends on the rival as well," said Ballack.
"Maybe we will change one or two positions."
After both winning their opening games Croatia & Germany will be able to land a final eight spot with a win today. Click here for the latest match odds!