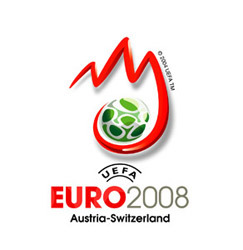 Italy only just scrapped through the Group stages, but they have never lost to Spain in a competitive tournament. Click here for the latest Spain v Italy odds!
Quarter-final
Italy v Spain – Vienna – Kick-off: 19:45
Spain will be looking to overcome a dismal record against world champions Italy in competitive internationals this evening, as two giants of the world game clash in Vienna for a place in the semi-finals of Euro 2008.
If Spain are to reach the last four and earn a clash next week with Holland's conquerors Russia, they must defeat Italy for the first time in a competitive match since a 2-0 win at the 1920 Olympic Games in Belgium some 88 years ago.
Since that victory, Spain have failed to win in eight subsequent competitive internationals against Italy. The last of these was a 2-1 win for the Italians in the 1994 World Cup quarter-final, a game that featured current Italy boss Roberto Donadoni in midfield. But the Spanish will be buoyed by their last meeting, a friendly in March of this year, when they ran out 1-0 winners in Elche thanks to a goal from Euro 2008's leading scorer David Villa.
As if the omens seem stacked enough against coach Luis Aragones' team this evening, the match is taking place on one of the unluckiest days of the year for the Spanish national team. Amazingly, they have been knocked out of three major tournaments on June 22, each of them via a penalty shootout – against Belgium at the 1986 World Cup, England at Euro 96 and South Korea at the 2002 World Cup. It's the sort of coincidence that makes bookmakers run for cover and makes superstitious supporters seek out the elusive four-leaf clover.
There are signs, however, that Spain are well equipped to overcome their Italian hoodoo on this most conspiratorial of days without the need for lucky charms. Fancied before the tournament as potential winners, they have an impressive 100% record in the competition thus far and have a squad packed with young, world class players. Tonight they will be hoping that they won't be eliminated prematurely, a fate that has befallen the other two teams from the group stage with 100% records, Croatia and Holland.
A 4-1 win over next week's potential semi-final opponents Russia in their opening match fired a warning shot to the rest of Europe that this perennially under-achieving nation look primed to end their unwanted streak of 44 years without a senior international title. That victory was followed up with less impressive 2-1 defeats of Sweden and Greece, with the latter match featuring a team of reserves with qualification already assured.
Aragones, who will celebrate his 70th birthday next month and has managed all of Spain's top club sides apart from Real Madrid, is likely to revert to his preferred XI of the opening two matches this evening. That means that Valenica's David Villa and Liverpool's Fernando Torres are set to resume their partnership in attack, one that has produced five goals and has undoubtedly been the most potent of the finals up to now.
Real Madrid's Sergio Ramos is likely to be recalled at right back, despite reportedly having to be restrained from physically confronting the coach in training earlier in the week in response to Aragones' harsh criticism of him at a press conference the day before. Tonight's selection will probably mean a place back on the bench for Arsenal midfielder Cesc Fabregas, a decision that will baffle many regular viewers of the Premier League and the Champions League. Villarreal's Brazilian-born holding midfielder Marcos Senna is likely to keep him out of the team in recognition of his excellent form this season for his club, who he helped guide into second place in La Liga behind champions Real Madrid.
Aragones is full of confidence ahead of tonight's confrontation. With defender Carles Puyol likely to have shaken off his foot injury, the coach has no injury or suspension problems to overcome before the clash at the Ernst Happel Stadium. He believes that Spain are ready to reverse their alarming trend of departing at the quarter-final stage of this competition – something that has happened on no fewer than six occasions in the past.
"I am convinced we will win," he said on Friday.
"I have no doubt that these players are ready to give 110%. We have to think positively and we are doing just that. My glass is half-full and deep down I know we are going to go through. This squad can put an end to our historical problems once and for all."
Italy coach Donadoni, himself a veteran of three major tournaments as a player, has much more on his plate in terms of selection and suspensions. He showed a willingness to make key changes to his system and his personnel ahead of the crucial final group game against France, opting for a narrower 4-3-1-2 formation that brought about a 2-0 success and qualification for the knockout phase. He has also reshaped his defence since the opening 3-0 defeat by Holland, with both Fabio Grosso and Giorgio Chiellini almost certain to keep their places.
Donadoni's main problem lies in midfield, where key Milan duo Andrea Pirlo and Gennaro Gattuso are suspended. Roma's Alberto Aquilani is likely to join his club colleague Daniele De Rossi and Milan's Massimo Ambrosini in the engine room, as Donadoni looks to stick with the same tactical set-up that proved such a success against France.
The three forwards will also probably remain unchanged, with Italian football's enfant terrible Antonio Cassano partnering Luca Toni up front, and Simone Perrotta floating just behind them. The pressure has mounted on the strikers, especially Toni, with none of Italy's goals so far in the competition coming from their front men.
Waiting on the bench are the 88-cap veteran Alessandro Del Piero and Marco Borriello, who has enjoyed a fine season with Genoa that resulted in 19 Serie A goals. He will be itching to get his first taste of tournament football and may well get it at some stage tonight should Toni continue to misfire.
The Italian media were very critical of the team's opening two performances at the finals, the embarrassing defeat by Holland and the 1-1 draw with Romania, which could have seen them eliminated but for goalkeeper Gianluigi Buffon's 81st minute penalty save with the scores level at 1-1. However, a deserved victory against the old enemy France has gone some way towards restoring the faith and Italian fans have good memories – Italy's two major tournament triumphs in the modern era have been preceded by sluggish starts, in the 1982 and 2006 World Cups.
Any side containing arguably the world's finest goalkeeper, Buffon, has a chance in any match, and the defence has certainly had a more solid feel to it since the restoration of Grosso and Chiellini to its ranks. With such a fine record in big games against tonight's adversaries, Donadoni is confident that his team can overcome the crucial suspensions to Pirlo and Gattuso, and a hitherto lack of goals from his forwards, to progress the last four for the third time in their history.
"We played Spain recently and they are a great team," Donadoni told the press on Saturday, referring to the 1-0 friendly defeat in March.
"They haven't always done well in big tournaments but this will spur them on, so we must make sure that we are as motivated as them. They are not overly physical but they have great pace, so we must watch out for that."
By Mark Robinson
Italy only just scrapped through the Group stages, but they have never lost to Spain in a competitive tournament. Click here for the latest Spain v Italy odds!