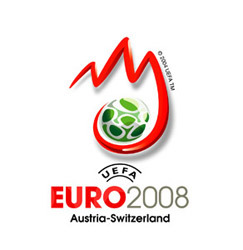 Click here to compare Euro 2008 betting odds!
Switzerland v Czech Republic
Group A Kick-off: 17:00 (BST)
The wait will be over when co-hosts Switzerland meet the Czech Republic in the opening match of Euro 2008.
Jakob Kuhn's Switzerland side will be looking for a winning start to kick off the finals, but in the Czech Republic, they face a side with impressive credentials in this competition. Winners back in 1976 (as Czechoslovakia) and losing finalists at Euro 96, the Czech side, managed by veterean coach Karel Bruckner , reached the semi-finals in Portugal four years ago.
Overshadowing Switzerland's preparations has been the health of Kuhn's wife who has been in hospital since she suffered a serious epileptic fit on Monday. The Swiss Football Association has prepared a contingency plan in the unlikely event head coach Koebi Kuhn is forced to quit the team.
"We are assuming that the coach will be able to continue his duties during Euro 2008," team manager Ernst Laemmli told reporters at Switzerland's training camp.
"We have made sure, however, that we know how things would carry on should anything unexpected happen to change that."
Switzerland have been boosted by the return of Tranquillo Barnetta to training ahead of Saturday's Group A opener.
The midfielder says he is ready to play despite worries over an ankle problem.
"I took part in a full training programme with the team on Wednesday and didn't feel any pain," he said.
"I was still thinking a bit about the ankle when it came to tackling but that's normal and our next few training sessions should put an end to that.
"I have told the coach I am ready to play but of course the decision rests with him."
Midfielder Valon Behrami says he and his team-mates can hardly wait for the tournament to begin.
"Of course we are all under pressure, but anticipation levels for the EURO are rising by the minute," he said. "We are finally going to get to play and can hardly wait for the tournament to begin."
Fellow midfielder Johan Vonlanthen agreed. "The players are ready and the mood is good," he said. "We all know what it is about and the team want to win the first match at all costs.
"We have been watching the Czechs and they have very good individual players. It's going to be a tough task," said Vonlanthen. Behrami added: "They have players with great personality, like Jan Koller, who can decide a match on their own. We will have to use our team spirit to counter that."
Patrick Mueller remains a doubt for the host nation.
Cech Mate
Petr Cech has warned his Czech Republic team-mates they must do more than merely stop Alexander Frei if they are to prevail.
Cech and Frei both established their reputations while playing alongside each other for Rennes in France, but the Chelsea goalkeeper said the co-hosts are more than a one-man band.
"I played with Alex for a season-and-a-half," said Cech. "We got on well – we talked a lot. He's a very nice person and a good friend. It's the first time that I'm going to be playing against him, and I'm curious to see what it will be like."
"I think the Swiss are very dangerous, and know how to play well together," Cech said at the Czech training camp. "They create a lot of chances down the left side with [Tranquillo] Barnetta and [Marco] Streller, and count on Frei to score goals.
"The players on the flanks can attack and provide dangerous crosses. We already know a lot about them, and we'll see how well we have prepared in the game."
Czech coach Brueckner refused to divulge details of his starting X1, although he has faced calls from the media to drop Milan Baros and play Koller alone up front.
Baros was Euro 2004's top scorer but has failed to find the net for his country since March 2007.
Czech defender Marek Jankulovski has declared himself fit for the Group A game after overcoming a knee injury. However, captain Tomas Ujfalusi is still struggling to be fit as he has a problem with an abdominal muscle, while right-back Zdenek Pospech is definitely out after failing to recover from a virus.