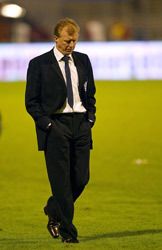 Compare football odds from over 25 bookmakers and claim £500+ in Free Bets. Click here for offer!
Steve McClaren is to be summoned to explain to the Football Association's international committee about England's recent dismal run of results.
According to reports, FA councillors are running out of patience with McClaren only seven months after his appointment and the calls for him to be fired will intensify if England fail to beat Andorra tomorrow evening.
Such a failure seems unthinkable given Andorra's lowly ranking in world football but McClaren's position has become a subject of intense debate at the FA and they intend to question him on his return to England about the perceived lack of leadership within the camp.
His critics within Soho Square claim that he was the wrong man for the job although, crucially, he still retains the support of the FA's chief executive, Brian Barwick.
McClaren's supporters at FA headquarters are being increasingly outnumbered and he will be asked to provide evidence to the 11-man international committee, to support his claims that England are still on course to qualify for next summer's European Championship finals.
Failing to reach the tournament would cost the already cash-strapped FA up to £100m.
"There's nothing radical that needs doing, apart from sticking the ball in the back of the net, and that's not radical."
McClaren dismissed all the criticism, and insisted he would not quit if England failed to defeat Andorra. "It's not an issue for me," he said, before adding that he was "always under pressure, absolutely".
However, McClaren's attempts to bring some discipline to the England dressing room after the goalless draw against Israel on Saturday was apparently a source of humour for some of the players. The former Middlesbrough manager reportedly slammed the door before remonstrating with Wayne Rooney about his below-par performance.
Many of the FA councillors regret the decision not to replace Sven-Goran Eriksson with Sam Allardyce of Bolton Wanderers or Aston Villa manager Martin O'Neill. One of McClaren's opponents is understood to be David Dein, the Arsenal vice-chairman who is on the international committee.
McClaren has overseen a run of five matches without a win against Macedonia, Croatia, Holland, Spain and Israel. In four of those matches England have failed to score, equalling the country's worst-ever run, set in 1981 when Ron Greenwood was in charge.
To compound matters, the travelling England supporters made their feeling about McClaren clear during the 0-0 draw with Israel. There were chants of "what a load of rubbish" and when McClaren replaced Aaron Lennon with Stewart Downing there was a chant of "you don't know what you're doing."
England are five points behind Croatia at the top of their qualifying group and three behind second-placed Russia. In total, McClaren has won only three of his eight matches since taking replacing Eriksson last summer.
Compare football odds from over 25 bookmakers and claim £500+ in Free Bets. Click here for offer!