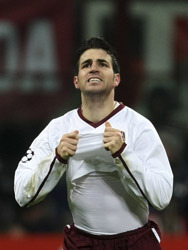 Tottenham won this fixture 2-1 this season but Liverpool haven't lost an opening day fixture under Rafael Benitez – who will come out on top?
Arsene Wenger insists Cesc Fabregas is not for sale at any price after Barcelona were again linked with a bid for the Spain midfielder.
Fabregas left Barcelona as a teenager to join Arsenal but he has repeatedly been linked with a return to Camp Nou.
But Wenger, whose side begin their Premier League campaign at Everton on Saturday, said on Friday: "Do you really think we sell now our players one day before the championship starts, players who are basic players of the team? There is no chance.
"You cannot stop people from having a lot of creative imagination during their sleepless nights, but that does not mean we will do it.
"I believe that in life you are committed to clubs with contracts and in no contract is the colour of your blood described.
"We are the beginning of a new season now, and it is important that everybody focuses – me, Fabregas everybody else, just on being successful for the club we love, and the best way we can do that is to do well."
Despite the departures of Emmanuel Adebayor and Kolo Toure's exits, Wenger maintains his squad is stronger than this time last year and can win the Premier League for the first time since 2004.
"We are young and have developed. Why should we not be better in August than we were in March?" he said.
"We lost two great players. However, we have bought (Thomas) Vermaelen to replace Kolo and we have Eduardo back, who for me is a great player.
"We have players who develop very well and are young, like Carlos Vela, Nicklas Bendtner, (Theo) Walcott, who are all strikers, so I do not feel we are short in these positions.
"The ambition is to finish as high as possible. What is as high as possible is to finish first, it is as simple as that.
"The competition is of a high level and many aspire to that, so let's continue to play the game the way we want to play it and I believe we can show that we have made big steps forward."
Wenger revealed Arsenal are no closer to any potential transfer deals, which have included a look at bringing former captain Patrick Vieira back as well as Bordeaux's Morocco striker Marouane Chamakh and Fulham defender Brede Hangeland.
"I have all the players in place," he added. "If we need to add one or two more, the transfer period is open until August 31.
"Ideally you want not to move any more, but you always have to adjust. If there is a need there, we will do it.
"There are still a lot of players who want to come to Arsenal, because they like the way we play and develop them.
"They feel they get access to top level competition, so I do not think we have a financial handicap.
Tottenham won this fixture 2-1 this season but Liverpool haven't lost an opening day fixture under Rafael Benitez – who will come out on top?
For more fascinating features, subscribe and save 30% and use the below link?