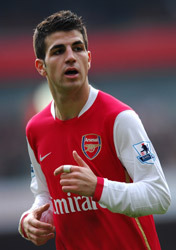 Cesc Fabregas has committed his future to Arsenal after revealing he held talks with Real Madrid.
The Spanish champions have again tried to bring the 20-year-old midfielder back to his homeland, but Fabregas has confirmed he will remain at Arsenal.
"I'm very grateful to Real and it is an honour that such a great club is interested in me," Fabregas told Radio Marca.
"But after the departure of Thierry Henry to Barcelona I couldn't leave Arsenal in the lurch.
"I spoke to Real's president Ramon Calderon and sport director Predrag Mijatovic, and they are spectacular people.
"It was very satisfying to listen to them as Real Madrid is a great club, but I have decided to stay at Arsenal.
"I had a long talk with Wenger. He is someone I can talk to about anything.
"I have total confidence in the boss that he will sign a new deal. Wenger believes in this team and has a lot of confidence in the squad.
"I am only 20 and all I have to do is enjoy my football and improve, and I want to do that with this team."
Fabregas' agent, Joseba Díaz, last night confirmed that his client had made a final decision and that it was "impossible" for the Spain international to leave Arsenal this summer.
"Real Madrid want Cesc but he is very happy in London – he will stick with Arsène Wenger," said Díaz.
"He is grateful for the interest that Madrid have shown but now he prefers to stay with Arsenal. No one can say what will happen forever but we have talked about now and it is impossible to change clubs for Cesc.
"Arsène Wenger is a very, very important person in Cesc's life.
"Arsenal was the club that found him and developed him when he is younger. Cesc is a very important player this season now that Theirry Henry has gone to Barcelona."